With 90% of its population being able to easily access the web, Croatia definitely has a well laid out Internet infrastructure. The country also happens to be a member of the EU, meaning a lot of its laws and restrictions are guided by the union's directives. These directives also extend to how the Internet is regulated. Thanks to the EU's recent introduction of the General Data Protection Regulation (GDPR), a lot of online companies and web-based services have had to restructure their privacy policies to accommodate the new laws. Most of them have had to inform their customers of the need for explicit consent before they collect any of their personal data, and also offer the opportunity for their customers to ask for all the information that a site or online service may have on them.
Best Croatia VPNs in a Nutshell
We've analyzed plenty of VPN service providers. Here's how the top 10 VPNs for Croatia are ranked according to their pricing, apps, speed, support, and refund policies.
Internet in Croatia
With these new developments taking shape, it may seem like Croatian Internet users have most of their online privacy concerns taken care of thanks to the EU's GDPR. There has however been no effort through the union to avail some of the world's most popular online services to Croatian Internet users, and this may make for a very boring stay especially if you happen to be visiting the country on holiday or for business. It means you won't have any access to some of your favorite streaming services such as Spotify and Apple Music. You also won't have access to online radio through Pandora, nor will you be able to stream movies, shows or series from the world's top content streaming service since there's no access to American Netflix in Croatia.
For some people, the lack of these services is the only reason they need to consider changing their holiday destination, or their meeting venues. Fortunately, though, the situation is salvable. Most of these services use a user's location to determine their access. They rely on this so as to provide a service that caters to the interests of the people in a specific region, and such interests range from the main language that the content is offered in, to the type of content that is most likely to resonate with the inhabitants of that region. While these reasons may all be legitimate, it still does not outweigh the fact that users in Croatia also would need to access these globally used services. This reason alone qualifies the need for a VPN service for Internet users in Croatia.
Best VPNs for Croatia – The Need For A VPN in Croatia
A Virtual Private Network consists of a network of servers based in different locations. The basis of having the servers based in different locations is to provide an entry point for users to access sites that are only restricted to the users of a particular country. By connecting to a service that has a sizeable amount of servers, users will have the opportunity to access a wider range of sites, and this also increases the variety of sites and channels that can be accessed.
A VPN connection also encrypts your connection, such that your data gets encrypted whenever you're connected to a providers servers. This allows you to hide your traffic from your ISP, meaning they won't be able to block out any of the sites you can't access in Croatia because they won't be able to eavesdrop on your online traffic. A VPN service, therefore, accords your much-needed privacy and online security.
The Best VPNs for Croatia
Now that you know what you stand to gain from a VPN service, deciding which one to subscribe to is the next step you need to carefully consider. There are a lot of providers to choose from, and an extensive list can be found through a simple search query online. Most of these are not even reliable, and a good majority don't offer the quality of protection that you'd be comfortable with. You need a reliable provider to ensure you have unrestricted Internet access in Croatia, and fortunately enough, we have a list of providers that are sure to offer that kind of service:
1. ExpressVPN
Starting out our list is ExpressVPN, a service that's taken the VPN scene by storm, and still continues to ensure users receive best-in-class service. The provider is headquartered in the British Virgin Islands, and this places it well away from any data regulatory jurisdictions.
The service has an impressive 2000 servers, and this includes a range of stealth servers that can be used by anyone hoping to access sites based in heavily restricted areas such as China and the Middle East.
ExpressVPN also allows users to have up to 5 more simultaneous connections under one account and offers their VPN app in versions that are compatible with Android, iOS, Windows, or Linux-based devices.
ExpressVPN has won top awards as a customer-centered VPN provider, and this is thanks to the high standard of customer service that they're able to provide. You can learn more about the service through our in-depth ExpressVPN review here.
2. BulletVPN
This Estonia-based VPN service provides online security to all of its customers, courtesy of its top features and military-grade encryption. The service has more than 150 servers in its directory, allowing it to provide guaranteed access to a myriad of geo-restrictive sites and online services.
The provider upholds a strict zero-logging policy, meaning that even they won't be able to figure out what you're up to online. BulletVPN has an allowance of up to 6 simultaneous devices, and their service compatible with your Windows, Mac, iOS, or Android-based device. Their apps are really easy to install and get working with, and they also have a pleasant user interface.
All the major VPN protocols are supported, but the service does encourage its customers to rely on PPTP. The service is also sure to unblock Netflix for its users, meaning you shouldn't have to miss out on your shows once you fly to Croatia. A thorough BulletVPN review is available for you to skim through, in case their service sounds a lot more interesting than others.
3. NordVPN
NordVPN is another Panama based service that should be able to cater to your online security with the highest possible level of standard. The service commands a network of about 4000 servers, and this provides access to services based in countries that you wouldn't even be able to access through most other VPN providers.
Security is watertight, thanks to a 256 bit AES encryption provided by the service. Subscribers also have the opportunity to sign up to 6 more devices for protection through the service under one account. One of the many unique features that NordVPN is known for is their double encryption service, where a user can use more than 2 servers to relay their connection. This allows for increased protection and keeps user data away from both their ISP and any hackers and spammers hoping to infiltrate their connection.
The service also offers additional features such as an automatic Internet kill switch that shuts down the connection as soon as the VPN service is interrupted. NordVPN also allows for Tor over VPN, which allows users to increase their capacity to stay undetected through the Tor network. There's still a lot more you need to know about the NordVPN service, and you can get to do so through our comprehensive NordVPN review.
Summary On The Best VPN for Croatia
The providers we've listed above are sure to have your online security well taken care of, and also ensure you remain completely anonymous whenever you're browsing the web. If there are any questions you might have regarding the service, leave us a comment or two in the section below, and we'll be happy to respond.
Best VPN for Croatia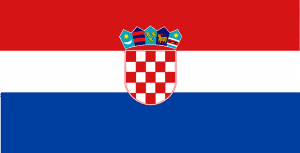 Name: ExpressVPN
Description: Regardless of whether you are a Croatian citizens or simply a tourist spending your vacation over there, ExpressVPN has all you cybersecurity needs covered.
VPN Apps

Access Geoblocked Content

Speed

Support

Refund Policy