How to Watch BBC iPlayer on Smart TV outside the UK? If you can't get BBC iPlayer on your TV, it might not be as smart as you think it is. However, if the app is available, and you are not able to access it means you're probably located outside the UK. Smart televisions are supposed to offer access to the BBC and other channels, but licensing and copyright issues can put a damper on the whole smart streaming experience. Only UK residents can enjoy streaming BBC iPlayer's content, while people in Australia, Canada, the US, and Germany can't. Just because your TV is smart doesn't mean it can get you BBC iPlayer wherever you are. That's VPNs' and Smart DNS proxies' job. Learn how you can watch BBC iPlayer outside the UK on Samsung, Sony or LG smart TV using either a VPN or Smart DNS.
How to Get UK Apps on Your Smart TV Overseas?
Before we get into how you can watch BBC iPlayer on your Smart TV abroad, you first need to change your Smart TV's region to the UK. Otherwise, you won't be able to install British apps on it.
How to Watch BBC iPlayer on Smart TV Using a VPN
Smart TVs are super popular among TV viewers. They allow viewers to watch catch-up and other on-demand programmes, usually via an app, by connecting to the Internet. A good choice of entertaining apps would be BBC iPlayer. As you can see, you'll get the following message: "BBC iPlayer only works in the UK. Sorry, it's due to rights issues."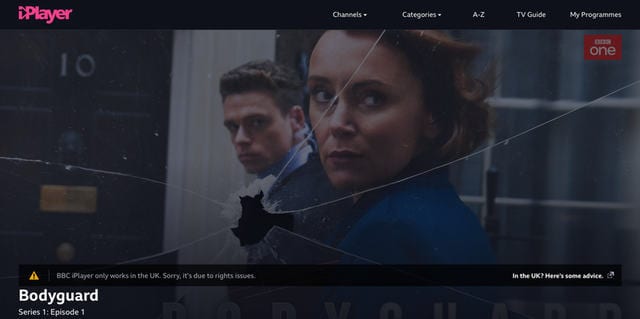 Being geo-blocked is not an obstacle and shouldn't be a problem for those who are aware of a VPN's function. The VPN connects your Smart TV to one of its servers (in this case, UK server) and routes all of your traffic and data through that server. This way you'll appear to be using the Internet from the country where the server you connected to is located. Let's explore how that works:
VPN provides you with extra privacy by encrypting your traffic. You also can surf the web anonymously while using VPN.
Smart TVs do not have VPN clients. As a result, you have to setup VPN on your router to enable a VPN connection on your Smart TV.
Alternatively, you can sign up with a VPN provider which offers its users Smart DNS proxies to unblock geo-restricted content. Good examples are BulletVPN and ExpressVPN. Unlike VPN, Smart DNS can be configured directly on most Smart TVs to bypass regional restrictions.
Some ISPs around the world use DNS hijacking and transparent proxies. If your ISP is one of them, you have to use VPN instead of Smart DNS to watch BBC iPlayer outside the United Kingdom.
Those Smart TVs replace the need to use a computer, and VPNs make using them a lot more interesting. ExpressVPN is one of the service providers that can strengthen your relationship with your Smart TV. It can bypass the restrictions imposed on BBC iPlayer and other services so that you can watch it any time you want outside the UK.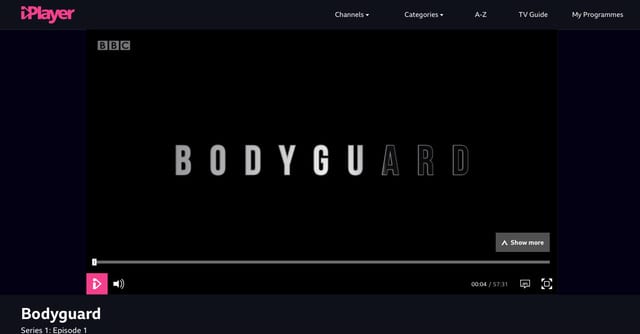 Not only that, but this service provider is strong enough to keep you secure throughout the whole experience. For more information on other service providers, make sure you check out the table below. Get to know which is the best VPN for Smart TV in this article.
How to Watch BBC iPlayer on Smart TV Using a Smart DNS
A Smart TV is a lot like a computer. You can browse the web, check into your social media platforms, and run the same apps you have on your smartphone. Because a Smart TV is an important source of entertainment, equipping it with the necessary apps can better your use of it. BBC iPlayer, for example, is a great app to have on your Smart TV, and a Smart DNS can get it for you even if you're outside the UK. All you'll have to do after subscribing to one is enter the DNS server address that it gives you. Here are the steps you need to follow to get BBC iPLayer unblocked on your Smart TV:
First, head over to Unlocator and sign up for a free 7-day trial.
Follow these 

videos/setup tutorials

 to configure Smart DNS on your Smart TV.
Go to BBC iPlayer's website.
Enjoy your unlimited access to all of BBC iPlayer's content.
Unlocator is a Denmark based SmartDNS service that can unblock over 200 channels. You can get BBC iPlayer unblocked as well as other channels or services for a very cheap price. Plus Unlocator allows great and incomparable compatibility with all devices including Smart TVs. With a Smart DNS like Unlocator, you can overcome geo-restrictions and watch the content you desire wherever you may be.
BBC iPlayer Not Working on Smart TV
If BBC iPlayer doesn't work on your TV, your device might not be certified. If the device isn't certified, BBC doesn't support it, which explains why it won't work on your TV or connected TV device. BBC iPlayer apps for Samsung's and Sony's connected TVs allow you to access BBC TV programming on demand. Additionally, iPlayer on July 19, 2018, closed on some earlier LG models. Before you frustrate about not finding the app on your Smart TV, you might what to check if your device is certified for  BBC iPlayer usage first.
BBC iPlayer on Smart TV
A Smart TV is not smart if it cannot access BBC iPlayer. Once you get that out of the way, you can focus on getting the app unblocked outside the UK. You no longer have to wait for the shows and programmes to be aired in order to watch them. You can now easily connect to the Internet on your Smart TV to watch iPlayer whenever you find it suitable. If iPlayer isn't available where you are, a VPN or Smart DNS can get it for you abroad. You don't have to worry about that, all you need to think about is which VPN or Smart DNS you are going to pick to get iPlayer unblocked outside the UK.