Can I watch My5 outside the United Kingdom? Channel 5's free online video service My5 is only available in the UK. If you live in the US, UK, Canada, Australia, or elsewhere abroad, access to the channel won't be allowed.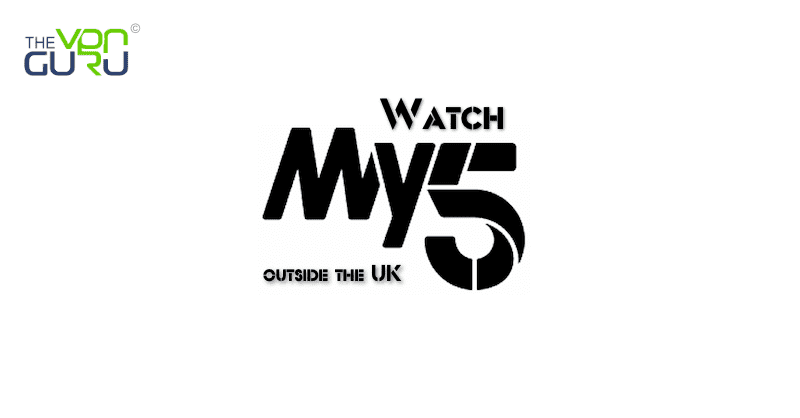 To help you watch content like Big Brother, The Walking Dead, and Law & Order on My5 outside the UK, we've created this comprehensive guide. Follow the steps included and you'll have My5 no matter where you reside.
Watch My5 Anywhere – The Easy Walkthrough
Time needed: 4 minutes
We're here to solve your problem, and solve it we shall. So, let's cut to the chase. Here's how you can stream My5 anywhere outside the United Kingdom:
Subscribe to a VPN service provider.

We highly recommend ExpressVPN due to its speed, the variety of UK servers, and user-friendly apps.

Download and install the VPN application on your device.

You'll find clients on Android, iOS, PC, Mac, as well as Fire Stick.

Now, activate the VPN software and sign in with your account.

You'll have access to servers in more than 160 locations.

Connect to a server in the United Kingdom.

Once the connection is established, you'll receive a UK IP address.

Head over to My5's website and create an account.

We've included a step-by-step process on how to do so below.

Stay on the website or launch the My5 app.

We've also added an easy-to-follow guide to install the My5 app on your device.

Start watching My5 anywhere.

Enjoy a huge library of premium content – for free – wherever you are.
Unblock My5 Anywhere – The Full Guide
To better understand how the unblocking process works, we've created a comprehensive walkthrough to help you out:
What You Need
Unblocking My5 requires everything in the table below:
A VPN subscription.
My5 account.
A device that supports My5.
Is My5 Available outside the UK?
My5 is a free channel that has gained a lot of popularity in the UK region. In fact, it gains 40 million viewers every month.
However, just like most streaming services around the world, My5 restricts its access to a specific location – the United Kingdom.
The service applies geo-blocking, where it examines the users' IP addresses to determine their location, and block/allow their access accordingly.
If you're approaching the channel with a non-UK IP address, your viewing would be terminated. In other words, you'll be witnessing the following error messages:
"CA-3000. We're sorry, you must be located in the UK to view this content. If you continue to see this error, please visit the My5 Help Centre for more information and advice on how to solve it: https://help.channel5.com"
"Something went wrong. Please try again later."
"JW-2999. We're sorry but something has gone wrong. Please try refreshing the page."
"The video you are trying to watch cannot be viewed from your current country or location."
Luckily, with a VPN, the whole situation can be reversed as you'll be able to change your location (virtually), and access My5 wherever you may be residing.
A VPN – The Ultimate Geo-blocking Solution
VPN "Virtual private network" changes your IP address and provides you with a new one from almost any region in the world. Install VPN. Choose a UK VPN server.
The next time you use the My5 app or website, you'll appear to be located in the United Kingdom. As a result, you'll be able to watch My5 anywhere.
Bypassing regional restrictions isn't the only task a VPN thrives in. It's certainly capable of so much more, offering you the limitless internet you've been searching for:
A VPN allows access to blocked websites in any country.
It shields your data with military-grade encryption, protecting your browsing activities from hackers.
A VPN also hides your IP address and allows you to browse the web anonymously.
With a VPN, you can bypass your ISP's throttling habits, guaranteeing better connection speeds.
Before you proceed, you must know that not all VPNs can unblock My5 overseas. We've tested a lot of VPNs, including free ones that couldn't get the job done.
While using the app, the only thing we got was a black screen – nothing loaded. However, there are some top providers such as ExpressVPN that are deemed reliable for unblocking channels anywhere.
ExpressVPN has a lot of servers in the UK, which gives you several options to choose from. Moreover, it has a 30-day refund policy in case you want to take its service for a test drive.
However, ExpressVPN isn't the only provider that can get you My5 anywhere. We've rounded up 4 of the best VPNs in the industry today in the table below.
How to watch Channel 5 outside UK – The Smart DNS Method
As mentioned, Channel 5 is able to detect your location by looking at your IP address. Smart DNS simply hides your location giving geo-restricted channels like My5 no chance to realize you're located outside the UK.
Unlike a VPN, your IP address stays intact and no encryption is applied. This results in the following benefits:
Unblock restricted content from different countries at once. Using one Smart DNS setup, you get to watch UK'S Channel 5, US Netflix, and BEIN Sports simultaneously.
You Internet speed stays the same even when you're using Smart DNS.
All streaming devices work. Watch Channel 5 on Smart TV, Xbox, PlayStation, and others.
Some ISPs try to prevent their clients from taking advantage of Smart DNS by deploying DNS Hijacking or Transparent Proxies.
Check that your Smart DNS proxy service provider does have Channel 5 in their unblocked channel list before you sign up.
All the VPNs in the table above have Smart DNS as part of their subscription. So, if you're interested in this streaming technology, check what each VPN is offering and opt for the one convenient to your needs.
How to Create a My5 Account Overseas
Before you get to watch anything, you must create a My5 account. And now that you have a VPN subscription, this is what you need to do:
First, open your VPN app and connect to a UK server.
Head over to https://www.my5.tv/
On the top right of your screen, click on the profile icon, followed by Register.
Enter the required details. You can use SW1A 2AA as a postcode.
Agree to the terms and click Confirm.
You can skip the next step by selecting (Skip for Now).
You now have a My5 Account – enjoy!
How to Install My5 on Any Device Outside the UK
With a VPN subscription and a My5 account, you can now watch the channel anywhere in the world. However, you can't do that without installing the app on your device. So, here's how you can get My5 on any supported device:
Android
If you have an Android mobile or an Android TV that belongs to the TCL, Sony, Toshiba, Philips, Sharp, or Nvidia Shield families, follow the steps below:
First, download the VPN app and install it on your Android device.
Sign in with your account and connect to a UK server.
Change your Google Play Store region to the UK and download the My5 app.
Launch My5 and sign in.
Start streaming.
iOS
Watching on your iPhone or iPad? Then here's what you need to do:
Get the VPN app on your device and sign in.
Connect to a UK server.
Switch your App Store region to the UK and get My5.
Activate the channel's app, sign in, and start streaming.
Desktop
If you're one of those who like to stream their content on PC or Mac, this is what you need to do:
Download the VPN app on your desktop device.
Sign in and connect to a UK server.
Go to https://www.my5.tv/
Sign in with your account and stream away.
Apple TV
To get My5 on Apple TV, here's what you need to do:
First, install the VPN on your router (UK connection) or configure Smart DNS on Apple TV.
Change the Apple TV store's region to the UK and download the My5 app.
Launch the My5 app and sign in with your account.
Stream movies, shows, and sports anywhere.
Smart TV
If you have Samsung or LG Smart TV, this is what you need to do:
Install the VPN on your router or configure Smart DNS on your Smart TV.
Change your Smart TV's region to the UK and get My5.
Launch the app and sign in.
Enjoy streaming My5 wherever you are.
Roku
FireStick
On FireStick things are a lot easier as reputable VPNs have dedicated apps on the platform. So, this is what you need to do:
First, get the VPN on FireStick and connect to a UK server.
Change your Amazon account to the UK and download the My5 app.
You can also sideload My5 on FireStick or Fire TV.
Now, launch the My5 app and sign in.
Start streaming all of My5's content anywhere.
PS4
On PS4, you can get the My5 app by doing the following:
Change your PSN account region to the UK and download My5.
Activate the My5 app and sign in.
Enjoy.
My5 Unblocked Anywhere – The FAQ Section
You might still have a lot of questions you need answers to. Don't worry! We got you covered:
Yes. My5 is totally free. No subscription fee is required to stream its content.
Do I Need an Account to Stream My5?
Yes. In order to watch My5's shows, movies, and live television, you must first create a free account.
What Devices Support the My5 App?
The following devices have Channel 5 apps.
iOS
Android
Windows PC
Mac
Smart TV
Apple TV
Android TV
Roku
Amazon Fire TV
PlayStation 4
With a My5 account, you get access to a wide library of content that includes dozens of titles, including:
The Hotel Inspector
Neighbours
Home and Away
WWE
Boxing
World Rally Championship
Peppa Pig
Geordie Shore
Law & Order
The Soham Murders
When Teens Kill
Judge Judy
Total Divas
River Hunters
Make or Break
The Resident
American Soul
Tomb Hunters
The Royals
While We're Young
Hunter
Pillars of the Earth
Mutant X
Churchill
No, especially free ones. According to our tests, if a VPN is not credible enough, you'll be getting nothing but a black screen.
Why Can't I Find My5 on My Xbox Anymore?
In the past, My5 used to have an Xbox app. However, to maximize the users' experience, they had to minimize their device supports. As of now, My5 does not support:
PlayStation 3
Samsung Smart TVs built in 2012 or earlier
Xbox 360
Xbox One
Samsung Blu-ray Players
Watch My5 Anywhere – Final Words
My5 is a UK gem that anyone should have access to no matter where they are. Once you're done with this guide, you'll be able to watch My5 anywhere, hassle-free.
In case you run into any issues while trying to unblock the channel, we're always on stand-by, so feel free to ask us anything in the comment section below.