When it comes to Anime streaming services, there are plenty of channels to choose from. RetroCrush is one of the best around. Unfortunately, however, it is currently only available in the USA and Canada.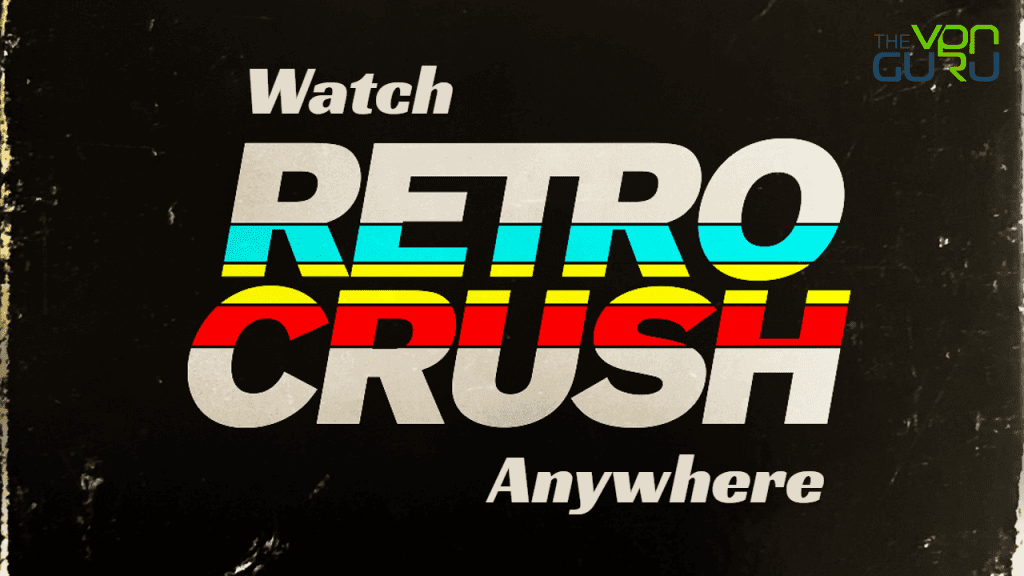 As is the case with Funimation and Crunchyroll, geo-restrictions prevent international anime fans from accessing their favorite content on RetroCrush.
"You do not have permission to access this video. Code: 598"
To get around this geoblock error, all you need to do is follow the steps we laid out below.
Quick Guide
Time needed: 5 minutes
In order to watch RetroCrush from anywhere, you need to obtain an American or Canadian IP address. Here's how it's all easily done.
First of all, sign up with a VPN provider.

Without a VPN, you won't be able to get a US IP address.

Once that has been taken care of, download and install your VPN provider's app on your device.

Most VPN services offer dedicated apps for Android, iOS, PC, and Mac.

Next, sign into the VPN app using the VPN account you have previously created.
You will be presented with a list of global VPN servers inside the VPN app.

Choose an American VPN server and wait for the connection to establish.

You're now browsing the web as if you're located in the US.

US-only sites and apps are no longer a no-go.

Finally, head over to the RetroCrush site or launch the RetroCrush app.

Stream your favorite classic anime shows from anywhere in the world.
Getting RetroCrush Abroad – In-Depth Analysis
In case you're familiar with what VPNs are and how they work, there basically is no need to continue reading this guide. However, if this is all new to you, we suggest you stick around to gain some valuable insight on what geo-restrictions are and how a VPN helps you defeat them.
What You Need
In order to get around geoblocks imposed on RetroCrush, you need three items:
A VPN subscription
RetroCrush subscription
Your streaming device
Where is RetroCrush Available at the Moment?
According to their official website, "RetroCrush is only available in the United States and Canada. We are grateful for the support from our fans around the world and hope to one day expand our licensing to more territories."
Our guess is as good as anybody's as to when this expansion will actually take place. Luckily, with the help of a VPN, you don't need to wait and can take matters into your own hands. So, what exactly is a VPN you might be wondering.
What is a VPN?
VPN is short for "virtual private network". It is mainly meant to be used as a means for online privacy and security. This is achieved by encrypting all of your Internet traffic; granting you online anonymity in the process.
The bottom line is if you care about your privacy, you should not browse the web before connecting to a VPN server first.
But that is not where the benefits of using a VPN stop. Depending on the location of the VPN server you connect to, you will appear to be browsing the web as if you're actually residing in that location.
In simple terms, connecting to an American VPN server provides you with an American IP address. This is how people outside the US end up getting access to those region-restricted US apps and services.
Which VPN Provider Should I Choose?
There are plenty of VPN service providers out there. We might even say there are too many. This can make choosing the right one a bit difficult.
While preparing this tutorial, we used ExpressVPN. They have many servers in both the US and Canada. Their servers are pretty fast too. This is crucial as it means that you won't be suffering from buffering while watching geoblocked content online.
We generally recommend using one of the VPN providers from the list below to readers who are mainly concerned about bypassing regional restrictions.
How to Download the RetroCrush App from Anywhere
For anime fanatics residing outside the States, getting the RetroCrush application isn't straightforward. It is still achievable though. Choose your streaming device from the table below for further instructions.
Watching RetroCrush from Anywhere FAQs
Find answers to some of the most frequently accessed questions about accessing RetroCrush below.
Where is RetroCrush currently available?
At the moment, RetroCrush is only available in the United States of America and Canada.
Yes, this anime streaming service is free. There is a premium subscription that you can upgrade to.
What are the benefits of upgrading to the premium plan?
The premium RetroCrush subscription costs $4.99. It eliminates ads and grants access to "age-gated" anime content.
On which devices is RetroCrush available?
You can watch RetroCrush on browsers, Android, iPhone, iPad, Amazon Fire TV, Roku, and Apple TV.
What are the best alternatives for RetroCrush?
We suggest checking out Crunchyroll, Funimation, Animelab, VRV, and Viu.
RetroCrush from Anywhere – The Lowdown
Due to licensing restrictions, finding a streaming channel that has access to your favorite anime can be somehow tricky. RetroCrush is a safe bet for those of you looking for older content. The fact that it is free is a huge plus. What other anime streaming services do you feel are worth checking out? Drop a comment below to let us know.