Can I Watch The CW Outside the US? The channel is available only in the United States, which means that, technically, you can't.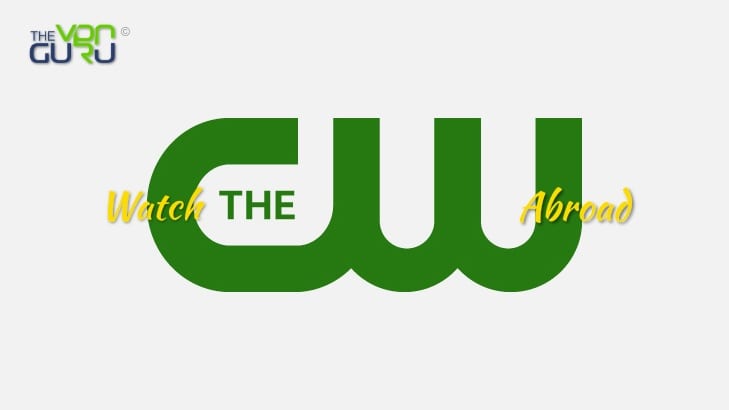 However, there are ways to circumvent the geo-restrictions imposed on The CW's content and enable you to watch the channel wherever you are. This guide has everything you need.
Unblock The CW Abroad – Quick Steps
Time needed: 4 minutes
The CW allows users full access to its content without asking for anything in return. It's completely free. However, it's blocked outside the US. We're going to jump right to the solution with a step-by-step walkthrough on how to unblock The CW Anywhere:
Subscribe to a VPN service.

We tested dozens of providers and found that ExpressVPN is the best one for the task.

Download and install the VPN application on your device.

You can find dedicated clients on Android, iOS, PC, Mac, as well as FireStick.

Activate the software, sign in, and connect to a US server.

This will grant you an American IP address.

Launch The CW website or download the app.

We've included a comprehensive step-by-step guide below to teach how to get The CW app.

Finally, steam The CW wherever you are.

Watch the likes of Arrow, The Vampire Diaries, The Flash, and so many more.
Watch The CW Outside the US – The Full Guide
Now that you know how to unblock CW TV outside the USA, let's dive into more details in this in-depth review:
What You Need
Before you proceed, make sure that you have everything included in the list below:
A VPN subscription.
CW-compatible device.
Decent internet connection.
Is The CW Available Outside the US?
Quick answer: No, it's not. Whether you're trying to access The CW or CW Seed overseas, you'll get the same results. The CW is one of the most popular channels in the United States, providing content for millions of users in the country.
However, only those in the US can access The CW, which means leaves anyone living in the UK, Canada, Australia, Germany, and elsewhere abroad out of the equation.
The CW uses geoblocking – a mechanism that relies on your IP address to determine your location. If you happen to be overseas, none of the titles will be available to stream. Instead, you'll get the following errors:
"You have encountered an error."
"Due to licensing restrictions this content is only available in the U.S."
As mentioned, your IP address is the main factor that helps a channel pinpoint your location. In order to circumvent the geo-restrictions applied, an IP alteration should occur.
With a Virtual Private Network, that can be done with a push of a button. All you have to do is follow the steps presented above.
The VPN Solution
VPN takes a more drastic approach. VPN, Virtual Private Network, actually re-routes your whole traffic via a VPN server. By choosing a US VPN server, you can change your local IP address to an American IP address.
CW TV, Netflix, Hulu, Pandora, Crackle will think you're accessing them from inside the US, granting you full access no matter where you physically reside. Take a look at what makes VPN special.
Not only does VPN change your IP address, but it also encrypts all your traffic. No more spying from government agencies, hackers, or that nosy neighbor.
When you obtain a US IP address, all American streaming services get unblocked. Watch US Netflix, Amazon Prime Video, Hulu, and CBS All Access.
No need to worry about DNS hijacking or Transparent Proxies. VPN is completely unaffected by either.
A VPN also bypasses ISP throttling, guaranteeing better speeds.
While there are dozens of VPNs on the market to consider, some may be more efficient than others when it comes to unblocking CW TV abroad.
When searching for VPN providers keep a couple of things in mind. First, a VPN will reduce your Internet speed. The question is by how much. Reliable VPN providers, like ExpressVPN, reduce speed by only about 10%.
You just need to choose which one offers you the features that suit your needs. Luckily, top VPNs for CW TV actually exist and you can find them below.
Unblock The CW outside the US – Smart DNS Proxy Solution
When you visit the CW Network site and try to stream a video, you get this message "Sorry, this content is not available in your location". CW simply detects your location by looking at your IP address.
What you need is a tool that allows you to hide your true location from CW and other geo-blocked streaming channels.
That's exactly what Smart DNS allows you to do. Once set up, Smart DNS gives you access to CW TV, Netflix, Hulu, and CBS All Access. Smart DNS advantages can be summed up as follows.
Smart DNS Proxy allows you to watch online content from miscellaneous regions concurrently. Stream CW TV, CBC Canada, and BBC iPlayer using the same Smart DNS setup.
Smart DNS does not encrypt your traffic. Neither does it change all of its direction. That's why your Internet speed stays the same when using Smart DNS Proxy.
Your router, iPhone, iPad, Android, Smart TV, Xbox, PlayStation, Chromecast, Apple TV, and all other streaming devices are Smart DNS compatible.
Your local IP address is kept unaltered. No need to worry about getting blocked from local/national websites or services.
Smart DNS doesn't work well in the presence of DNS Hijacking or Transparent Proxies. Both are policies sometimes used by ISPs.
That's Smart DNS in a nutshell. All there's left to do is find a Smart DNS Proxy service. A couple of pointers: Make sure the Smart DNS service actually has The in its list of unblocked streaming websites.
Good Smart DNS services offer DNS codes that unlock at least 100 Internet channels. Every single provider on the list above has Smart DNS.
However, only BulletVPN allows you to test their service out for free, courtesy of its 1-day free trial. That way, you can see what the VPN has to offer before you opt for any plan.
How to Install The CW App on Any Device Outside the US
You now have a VPN subscription, which brings us to getting CW TV on your preferred device. Here's everything you need to know:
To watch The CW on Android, follow the steps below. This includes Android mobiles, tablets, and Android TVs (Nvidia Shield, Sony TV, etc.)
Download and install the VPN app on your device, and connect to a US server.
Change your Google Play Store region to the US and download The CW app.
Activate The CW app and watch your favorite shows anywhere.
If you have an iPhone or an iPad, you need to do this:
Get the VPN app on your device and establish a US VPN connection.
Go to your device's settings and switch the App Store's region to the US.
Download The CW application.
Start watching top CW shows in your region.
Streaming CW TV on PC or Mac doesn't require you to download the app. All you have to do is:
Download the VPN app and install it on your desktop device.
Connect to an American server.
Open your preferred browser and visit https://www.cwtv.com/
Pick your video and start binging.
Downloading The CW on Chromecast is not possible from abroad. However, if you want to watch on CW TV using Chromecast, you can still do this:
Download The CW app on your iOS or Android.
Launch the app and play a video.
Hit cast and start watching on your TV via Chromecast.
The CW has a dedicated app on Smart TVs. To get outside the US, this is what you need to do:
Set up a VPN on your router (US server) or configure Smart DNS on it.
Turn on your Smart TV and change its region to the USA:
Download The CW app.
Start streaming anywhere.
Getting The CW on Roku requires some extra steps. Here's what you need to do:
Install the VPN or configure Smart DNS on your router.
Change your Roku account to the USA and download The CW app.
Launch The CW and start watching.
The CW Outside the US – FAQ
You now have everything you need to unblock The CW outside the United States. However, we've answered more of your questions below:
Yes. The CW can be streamed without having to pay any kind of fee. Just launch the website or app and start streaming.
The answer is yes. The CW is ad-supported, which means you'll encounter a couple of ads while streaming.
Do I Need an Account to Watch The CW?
No, you don't. Once you have the app or launch the website, you can watch anything without having to sign in.
What Can I Watch on The CW?
The CW has a lot to offer in terms of content. You can stream shows such as The Flash, The Vampire Diaries, Arrow, Supergirl, Black Lightning, Supernatural, Kung Fu, Riverdale, Legacies, The Originals, and more.
What Devices Can I Stream The CW on?
You can watch The CW on your iOS, Android, PC, Mac, Chromecast, Apple TV, Roku, and Smart TV.
Unblock and Watch CW TV outside the US – Final Words
There's no need for a US cable subscription to watch CW TV free online. You don't even need an account, which makes the channel pretty valuable for avid streamers.
With the guide provided above, you can now watch The CW wherever you may be. If you faced any issues with this task, don't hesitate to contact us in the comment section below.