How to Watch Winter Olympics 2022 Live Online
|
So, the Summer Olympics' action wasn't enough? Well then, get ready as the XXIV Olympic Winter Games are set to take place on the 4th of February, 2022 in the land of Beijing, China. A host of streaming services will be broadcasting the international event as usual. However, geo-restrictions will still be an issue this year as well.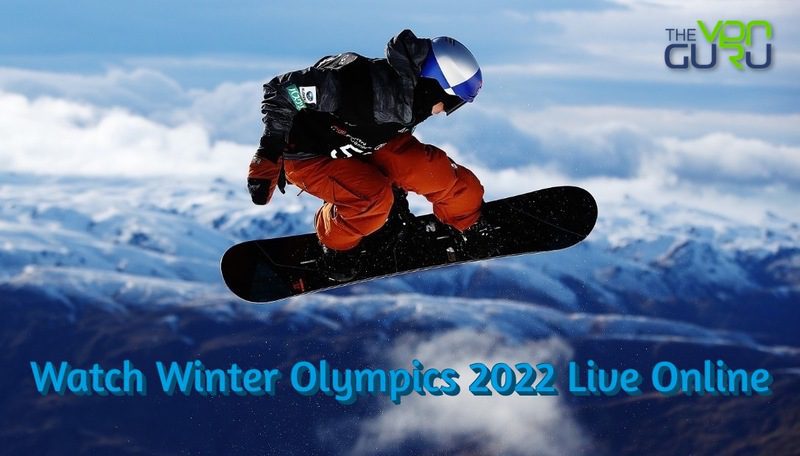 The Beijing 2022 will be the first Winter Olympics in China, which ups the excitement even more. Therefore, it would be unfortunate if you miss them, right? That's why we're here to help. Here's everything you need in order to watch the 2022 Winter Olympics live anywhere.
Beijing 2022 Live – Quick Guide
Time needed: 5 minutes
Let's keep it simple. If you want to stream the upcoming Winter Olympics, the following steps are required:
First, sign up with a VPN service provider.

For its variety of servers in different continents, we recommend ExpressVPN.

On your device, download and install the VPN's client.

Operating systems such as Android, iOS, PC, and Mac support VPNs.

Activate the app and sign in with your credentials.

Use the username and password you provided when you subscribed.

Connect to a VPN server.

Choose a server according to the channel you wish to unblock.

Launch the channel's website or app.

An account might be needed, even for free channels.

Watch the 2022 Winter Olympics live.

Stream Beijing 2022 wherever you are.
The XXIV Olympic Winter Game – Full Guide
But wait, there's more. To learn everything about the Winter Olympics and how you can watch it online, make sure to go through this comprehensive guide:
What You Need
To stream the Olympic Winter Games live, here's what you need first:
A VPN susbcription.
An account with a streaming service (If Needed).
A compatible streaming device.
The Streaming Channels
Such a historic event demands an international presence, and such presence it has received. Dozens of channels all around the world are broadcasting the games.
Some of them have already had the rights due to existing long-term deals, while others recently restruck deals for the upcoming years.
In the UK, Eurosport is the main broadcaster, where BBC iPlayer acts as a sub-broadcaster with a limited amount of coverage on free-to-air television.
In the US, NBC will once again be the official broadcaster of the Winter Olympics as part of its US$7.75 billion contracts. That's a lot of money, but the games are apparently worth it.
Each channel on our list is geo-blocked to its respective country. We'll be shedding more light on the matter later on, but for now, here are the official Winter Olympics broadcasters:
Back in 2018, the Pyeongchang Winter Olympics 2018 averaged 27.8 million viewers. This year, however, should see a jump in viewership thanks to the multiple streaming services broadcasting the event.
The Geo-Blocking Predicament
As mentioned, the streaming channels are geo-restricted to their respective countries. That's because they apply geo-blocking mainly for licensing agreements.
Each channel will look up your IP address the moment you visit its website or launch its dedicated application. In case you don't know, your IP address helps websites and services in determining your current physical location.
Once the channel figures out where your whereabouts are and they happen to be outside its area of coverage, you'll be blocked almost instantly.
Let's take NBC Sports for example. The channel is only available to viewers in the United States. In other words, you must have a US IP address to view its content.
If you're overseas, an American IP address is exactly what you lack, which will lead to an error message that looks like the one presented below:
"Geographic Restriction. This content is not available in your location."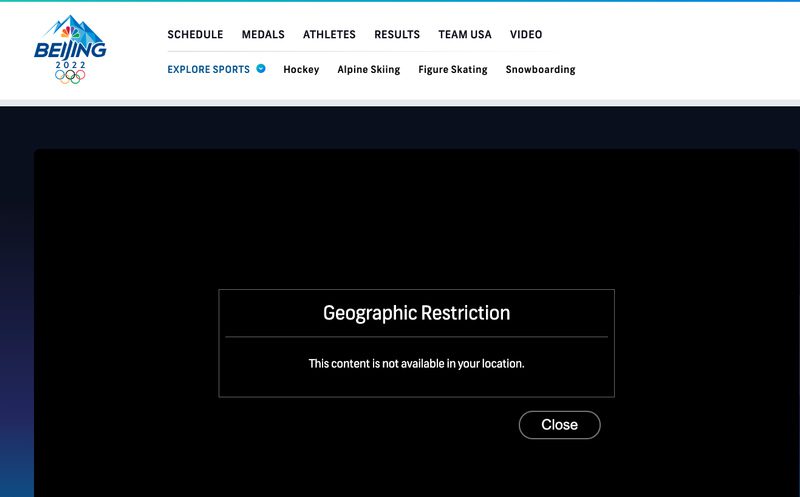 The same applies to every single channel on the list. However, if you follow the steps provided above, you can easily circumvent the geo-blocking applied and watch the 2022 Winter Olympics live wherever you are.
What a VPN Can Do!
The steps above and the unblocking process both depend on one single tool – a Virtual Private Network. If that's not present, you won't be able to watch the 2022 Winter Olympics.
A VPN is a cybersecurity tool that allows users to browse the internet in a more secure and anonymous way. It encrypts your sent and received traffic so that no one can intercept and harvest it.
Moreover, it hides your IP address so that your browsing activities remain private and hidden from your ISP's spying habits.
When your IP address is cloaked, the VPN assigns you a temporary one where the server you connected to is located. With that privilege, you get to access geo-restricted content in the area no matter where you physically reside.
To sum it up, a VPN does the following tasks:
Encrypts your data and increases your online security.
Hides your IP address and anonymizes your browsing.
Unblocks major streaming services worldwide.
Bypasses ISP throttling for better speeds.
Not all VPNs are equal, especially with the task at hand, which is unblocking streaming services. Most channels now block VPNs, which is why you should be more selective.
We highly recommend ExpressVPN as it has all the capabilities needed for seamless streaming. Not to mention that you can benefit from their 30-day refund policy.
Alongside ExpressVPN, we tested several VPNs that were able to get the job done with ease. You can see them in the table below.
The FAQ Section
Do you want to learn more about the 2022 Winter Olympics? Then make sure you go through the following part:
When Will the 2022 Winter Olympics Begin?
The Beijing 2022 will take place from 4 to 20 February 2022.
Where Will the Winter Olympics be Held?
This will be the first time that the Winter Olympics will take place in China. It will be held in Beijing and venues near neighboring towns of Yanqing and Chongli in the People's Republic of China.
Can I Watch the Winter Olympics for Free?
Yes, of course. Several official channels such as ARD/ZDF, Rai Play, and 7Plus are broadcasting the event for free. BBC iPlayer will offer a part of the event as Eurosport has the official rights in the UK.
Can Any VPN Unblock the Broadcasting Channels?
That's a hard no. Most of the channels block VPN traffic, so you're better off with the ones recommended in the table above.
How Many Countries Are Participating in the 2022 Winter Olympics?
To date, 95 nations are included in the Beijing 2022.
Watch Beijing 2022 Live – Final Words
The 2022 Winter Olympics (2022年冬季奥林匹克运动会) is an outstanding event that every sports fan is looking forward to watching.
Luckily, with the broadcasting channels above and this comprehensive guide, you'll be able to stream every single moment of the 2022 Winter Olympics. Now, if you have more questions, make sure to contact us in the comment section below.