"Is it actually still possible to access and watch Hotstar outside India?" It's one of the topics we at theVPN.guru get asked about the most.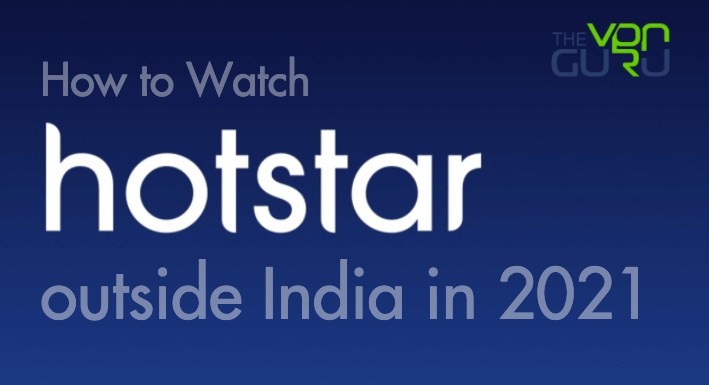 The answer isn't as straightforward as we would like. The reason being that Disney+ Hotstar is constantly blocking any means Indian ex-pats may turn to in order to unblock Hotstar from abroad; mainly VPNs and Smart DNS proxies.
In the following guide, we will take a look at all the VPNs we have tested with Hotstar. We will be separating those that work from those that don't.
Quick Hostar Unblocking Guide
Time needed: 6 minutes
To save you time and effort, we compiled a quick tutorial on how to access Hotstar from the USA, UK, Australia, and the rest of the world. In case you're already accustomed to VPNs and how they function, there is no need to read the rest of the guide.
Subscribe to a VPN that works.

This is the first and the trickiest part of the whole process: Finding the right VPN. We used ExpressVPN and got it all working in minutes.

Set up the VPN application.

Download the VPN app to your favorite streaming device.

Connect to an Indian VPN server

Login to the VPN app and sign in using your VPN credentials. Then connect to an Indian server from within the app.

Visit the Hotstar site or launch the Hotstar app.

We included additional steps on how to get the official Hotstar app while abroad below.
You should be able to use the same process to unblock other top Indian streaming channels including YuppTV, Voot, and SonyLIV.
Hotstar Streaming Anywhere – The Full Guide
Now you know how to unblock Hotstar overseas. However, there's more to it in terms of geo-blocking mechanism, the VPNs that actually work, and compatible devices.
That's why we included an in-depth walkthrough below to help shed more light on the matter:
What You Need
To get Hotstar outside India, you'll need everything in the list below:
A Hostar account. (To create one, follow the steps provided below)
VPN subscription.
Good internet speed.
Hotstar-compatible device.
An Indian mobile number.
Why is Hotstar Blocked Abroad?
Hotstar is an Indian video-on-demand service that offers some of the best Bollywood movies and TV shows in addition to live sports streaming.
Newly known as Disney+ Hotstar, the channel has more than 34 million subscribers. However, regardless of the popularity, the channel is geo-blocked outside India.
That means that if you are an Indian ex-pat living in the UK, USA, Canada, UAE, Saudi Arabia, Australia, or elsewhere abroad you cannot watch Hotstar. These restrictions are imposed by Hotstar owners who fear copyright violations and abide by licensing agreements.
If you try to access the channel from outside the region, a geo-error message appears. Here are some of the errors you'll encounter:
"Looks like you are travelling. Please restart the app to enjoy the localised experience based your current location."
"Something went wrong. Please try again later."
"Content Unavailable. The content currently unavailable in your region."
"HP-4030-This content is not available in your region."
Hotstar.com is unavailable for residents in Europe. We continue to work through changes in light of the General Data Protection Regulation (GDPR), which went into effect May 25, 2018. We apologize for the inconvenience, and intend to launch our services in EU soon. Thank you for your patience. If you are not accessing Hotstar from EU, please check your IP address to ensure you don't have VPN/Proxy services turned on. (If you are in EU).
Luckily, there are ways to unblock Hotstar outside India. By using VPN you can bypass geographic restrictions and watch Hotstar abroad on your PC, Mac, Android, or iPhone.
How to Subscribe to Hotstar from Abroad?
In order to create a Hotstar account, you need an Indian mobile number. There's no way around that requirement and it's mandatory for all three plans: Free, VIP, and Premium.
We suggest you contact a relative or friend in India and ask them whether you can use their mobile number if you don't have one yourself.
Alternatively, you can use an online SMS verification service instead. In this case, you basically get an Indian number you can use to verify your Hotstar account.
Keep in mind that this method doesn't always work. We tried multiple Indian SMS verification services and were presented with an error that stated "Incorrect OTP entered. Please enter again."
How to Unblock and Watch Hotstar Outside India with VPN
If you are in the mood of watching a live cricket event on Hotstar while you're not in India, you'll be very disappointed. Why? Because instead of a cricket match, this is what you'll see: "Content Unavailable. The content currently unavailable in your region."
You see, Hotstar knows whether or not you are in India by looking at your IP address. This number assigned to you by your ISP reveals where you are, so you must change it.
By connecting to a VPN, you'll be able to replace your IP address with an Indian one. Only then will you be able to access Hotstar, by appearing to be in India.
Best VPN for Hotstar
We constantly test various VPN service providers to see which ones are able to unblock Hotstar. As of 2021, there are three VPNs that stand out from the rest:
ExpressVPN
BulletVN
Unlocator
NordVPN
There might be instances where these 4 might not work for you. Rest assured though, in such cases, all you need to do is contact their support and they usually sort the issue in minutes.
Hotstar VPN Ban Fixed
No, not at all. We recommended the VPNs above for a reason as they proved to be credible enough to unblock the channel outside India.
Most users get tempted when they see the word "Free," which compels them to use such services in their "Free Internet" endeavors.
However, that's not the case as they're not reputable to get the job done. When you use such VPNs, even premium ones, that don't have the required capabilities, Hotstar VPN errors such as these appear:
"You seem to be using a VPN or proxy. Please turn off any of these services and try again. [PB-4740]"
"You're offline. Check your internet connection and try again."
If you see the errors above, you can try doing the following:
First, try using a different Indian server.
If that doesn't work, contact the VPN provider's customer support.
Finally, if none of the aforementioned steps work, try one of the recommended services in the table above.
Signing up with a credible VPN service such as ExpressVPN from the beginning will save you a lot of time and frustration. Subscribe to any of them to enjoy Hotstar in your region.
How to Download Disney+ Hotstar App on any device outside India
With a VPN, you can bypass geo-restrictions and access Disney+ Hotstar no matter where you are. However, before you get to do that, you must get the channel's app, which requires a few more extra steps.
Below, we'll show you how to get Hotstar on every device it's supported on. (We're going to assume that you already have a VPN subscription and a Hotstar account).
In order to install the Hotstar app on your iPhone or iPad, or Apple TV in the USA, UK, Canada, or Australia, you must switch your App Store region to Indian. The following instructions will guide you through the process.
If you want to download the Hotstar app on your Android device, you need to make some changes to your Google Play Store region.
On your Android device, TV, phone, or tablet, switch your region to India. For more guidance, you will find this article on how to change the Google Play Store region to India helpful.
Once you get the app, you can also download the VPN client on your Android platform, connect to an Indian server, and watch Hotstar anywhere.
If you're using a desktop device, your task couldn't be any easier. All you have to do is download the VPN app, sign in, and connect to an Indian server.
After that, head over to https://www.hotstar.com/in, log in with your account, and start watching.
If you want to watch Hotstar on Google Chromecast, you must install the VPN on your router. After that, you have to download the Hotstar app on the device you wish to cast from, and start streaming.
Another option is to configure Smart DNS on your router. This will guarantee better speeds since no VPN encryption is present.
If you live abroad, you won't find Hotstar on your Amazon account. To get it, you must change your Amazon account's region to India. As a result, you'll be able to download Hotstar in your region.
Hotstar outside India FAQ
Here's a compilation of other questions we get frequently asked about unblocking Hostar outside India.
Can I use any VPN to access Hotstar from abroad?
No, you can't. In fact, most VPN service providers are no longer able to unblock Hotstar outside India.
Are there any free VPNs I can use to watch Hotstar outside India?
All the free VPNs we have tested unfortunately failed to unblock Hotstar. This includes Hola, Hotspot Shield, Turbo VPN, and Tunnelbear.
Can I watch Hostar in the USA?
Yes, you absolutely can. Hotstar is available in the US, but it is quite toned down with very little content compared to its Indian counterpart. If you want to access Hotstar India, all you need to do is follow the steps we posted above.
While there is a limited selection of titles available for free, you do need a premium Hotstar subscription to watch most of the content, regardless of whether you're using a VPN or not.
What's the difference between the free, VIP, and Premium Hotstar subscriptions?
A free Hotstar subscription is very limited. You can only use it on 1 device and you don't get to watch any content in HD. Obviously, the free subscription heavily relies on advertisements.
The VIP plan sets you back ₹399/Year (5.34 USD). Although it's a paid subscription it does lack Disney Originals. You also only get to use it on one device. Add to that the fact it is ad-supported and only offers dubbed content.
For the full Hotstar experience, we recommend selecting the Premium Plan. It costs ₹1499 per year (approx. 20$). You get 4K streaming, English and dubbed content, no ads, and can register two devices per subscription.
On which devices is the Hostar app available?
You can stream Hotstar on your PC, Mac, Android, Apple TV, Amazon Fire Stick, Chromecast, iPhone, iPad, and Android TV.
Which shows do you recommend watching on Hotstar?
Here's a list of our favorite TV shows on Hotstar:
Yeh Rishta Kya Kehlata Hai
Kullfi Kumarr Bajewala
Koffee with Karan
Devon Ke Dev…Mahadev
Yeh Hai Mohabbatein
Ishqbaaaz
Sarabhai vs Sarabhai
Dance Plus
Nazar
May I Come In Madam?
Obviously, you will also want to watch all the additional Disney content. If you're into sports, Hotstar owns the rights to broadcast some of the biggest cricket and football events as well.
Can I Watch Disney+ Hotstar on a Rooted Device?
According to the official Hotstar website, you cannot watch Hotstar on a rooted device due to security measures taken to protect content copyrights and stop any misuse of their app.
Watch Hotstar Outside India
If you fancy sports entertainment, Bollywood productions, and unique content, then Hotstar is a channel you must have in your library.
Now, you have everything you need to get Disney+ Hotstar anywhere you may be. If you need any assistance, feel free to drop a line or two in the comment section below.