SVT Play is a Swedish video on demand and live streaming service provided by Swedish television. The channel is totally free, offering top TV shows, movies, as well as the best sports in the world.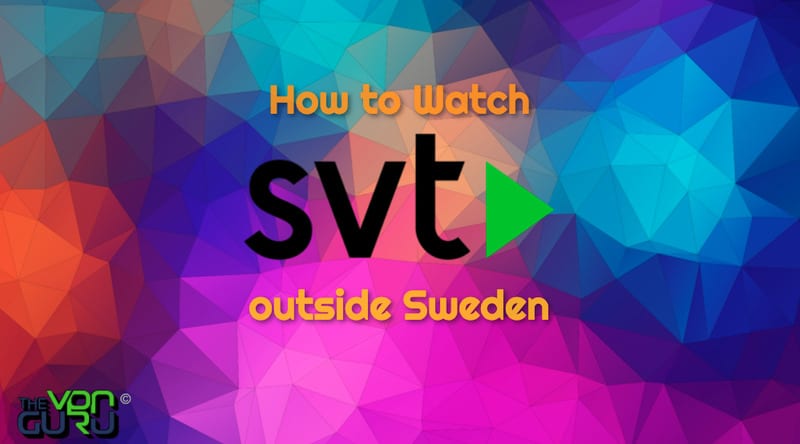 However, SVT Play is only available for residents of Sweden as it blocks access to anyone living in countries like Denmark, Norway, Finland, Iceland, Holland, Belgium. Germany, UK, US, Italy, and elsewhere overseas.
If you're an ex-pat living, studying, or working outside Sweden, you'll need a workaround to access SVT Play. The following guide provides everything you need to know.
Unblock SVT Play Anywhere – Quick Steps
Time needed: 4 minutes
Let's get down to the unblocking part. If you reside outside Sweden, the following steps are required to get SVT in your region:
Subscribe to a VPN service that has servers in Sweden.

We highly recommend ExpressVPN as it offers excellent speeds and a global server network.

Download the VPN app on your device.

You'll find clients on PC, Mac, Android, iOS, as well as Fire Stick.

Sign in with your VPN account and connect to a Swedish server.

Wait a few seconds for the connection to take place.

Get the SVT app or launch its website.

We have a step-by-step guide below showcasing the full installation process on any device.

Watch SVT Play wherever you may be.

Enjoy top Swedish content anywhere.
Watch SVT Play Anywhere – The Full Guide
The steps above are enough to get you SVT Play outside Sweden. However, there's a lot more to learn and we've included everything in this in-depth guide:
What You Need
In order to watch SVT Play overseas, you'll need all of the following:
A VPN subscription.
Fast Swedish VPN server.
A browser or the SVT app.
An SVT Play compatible device.
Is SVT Available Abroad?
The answer to this question is kind of in the middle. Let us explain. Back in 2020, users spent more than 1.34 million hours watching content delivered by Sveriges Television's SVT Play.
However, most of these viewers reside in Sweden as the channel is not completely available elsewhere. SVT applies geo-blocking, which is a mechanism used to restrict user access based on his/her location.
It examines the users' IP addresses to determine their physical whereabouts and block their access accordingly. Nonetheless, unlike several other channels, SVT Play is not fully blocked.
In fact, most on-demand content is available for viewing in overseas areas, hence the following message:
"begransat innehall utomlands."



This translates to "limited content abroad." In other words, you'll be able to stream some of SVT's shows and clips even if you're outside of Sweden.
On the other hand, live channels are completely blocked to ex-pats and viewers living abroad. Once you launch a channel, this error message appears:
"Programmet kan bara ses i Sverige. →Information om rättigheter utomlands.
If you translate the message, you get: "The program can only be seen in Sweden." So, the question is: How can you stream SVT Play outside Sweden?
Easy! All you have to do is get a VPN and follow the steps presented above.
What a VPN Does
Virtual Private Networks, simply known as VPN, can grant you access to restricted websites or streaming services such as SVT Play, DR TV, Netflix, Hulu, BBC iPlayer, and many more. But that's not the only thing that's great about VPN.
VPN offers you security while browsing online through traffic encryption.
It also gives you the ability to surf the web anonymously, prohibiting websites from tracking your online activity.
VPN lets you change your IP address and thereby gives you an IP address from a foreign country.
VPN works flawlessly against suspicious ISP policies such as DNS Hijacking or Transparent proxies.
Sometimes using a VPN can make your internet speed drop. Therefore it is recommended to use well-established VPN providers such as ExpressVPN. The service offers VPN apps on a range of devices like PC, Mac, Android, iPhone, and iPad.
ExpressVPN also provides 24/7 support and has servers all over the globe which is needed in this case as we need a Swedish server to connect to.
SVT Play can be unblocked outside Sweden using any of these VPNs.
How to watch SVT Play outside Sweden using Smart DNS proxies
Smart DNS offers a reliable solution to gain access to geographically blocked websites and services. By using Smart DNS you get to watch US/UK/Swedish Internet TV even while you're traveling abroad or making a living outside your native country. Smart DNS grants you other benefits:
Since Smart DNS doesn't encrypt your traffic, internet speed will suffer no loss at all.
Smart DNS offers access to geo-restricted websites, apps, and services such as SVT Play, Hulu. Netflix, WWE Network, Pandora, Crackle, and many others. Thus granting access to local websites at the same time because your local IP is left untouched.
Smart DNS works on practically any device you can think of such as mobile devices, tablets, Xbox, PS4, and Smart TVs.
The only negative aspect related to Smart DNS is that it becomes unusable when an ISP uses Transparent Proxies or DNS Hijacking, unlike VPN of course.
Proper Smart DNS providers, all the services in the table above provide hundreds of unlocked streaming sites, servers all over the world, and setup guides to help you with the installation process.
If you want to try the Smart DNS technology for free, you can opt for BulletVPN as it has a 1-day free trial. Their customer support will guide through every step.
Get SVT Play on Any Device
If you've reached this section, you're probably subscribed to a VPN service. Now that you have your VPN subscription, we can show you how to install and stream SVT Play anywhere.
Stream SVT Overseas – FAQ
More questions? We're answering those as well:
Do I Need an SVT Play Account to Stream Content?
No, not at all. You can stream anything live or on-demand without creating an account. In fact, on SVT's website, there's no option to create one, to begin with.
SVT Play is a free channel that requires no subscription fees. You can watch live channels and on-demand content without having to pay anything.
What Devices Can I Stream SVT Play on?
With SVT Play, you can watch top Swedish series, movies, as well as international live sports on Android, iOS< PC, Mac, Android TV, Smart TVs, Apple TV, Chromecast, and PlayStation 4.
Can I Watch SVT in the UK?
Of course, you can. Once you make use of a VPN and connect to a Swedish server, you'll be able to watch SVT Play in the United Kingdom and anywhere in the world.
What Can I Watch on SVT Play?
Once you connect to a Swedish VPN server, you'll be able to watch content such as AB Dun och Bolster, Euro 2020, Adam & Eva, Babel, Bakom kulisserna på Rederiet, Bing, Good Boys, Game of Hands, The Bureau, Eagles, The Singapore Grip, and a lot more on SVT.
Can I Watch SVT Play on Kodi?
Yes. An official SVT Play add-on is available in Kodi's official repository.
How to watch SVT Play outside Sweden Smart DNS or VPN
SVT is a Swedish gem that anyone should have access to no matter where they are. Now, all that is possible if you follow the guide above.
Please don't hesitate to ask about any unclarity you might have by leaving a comment.