Best VPN for PlayStation 5 Revealed
|
The PlayStation 5 is finally here, and everyone is so excited to get their hands on the console. It's much more than a highly capable gaming machine and will act like a fully-equipped entertainment hub, be it for gaming or streaming. However, despite having two models, which offer more options for obtaining games, PlayStation 5's full potential can never be unlocked without a VPN. There's always going to be restrictions and prying eyes no matter where the user is. With a VPN, all problems are solved. But the question is: What is the best VPN for PS5? Find out in this review.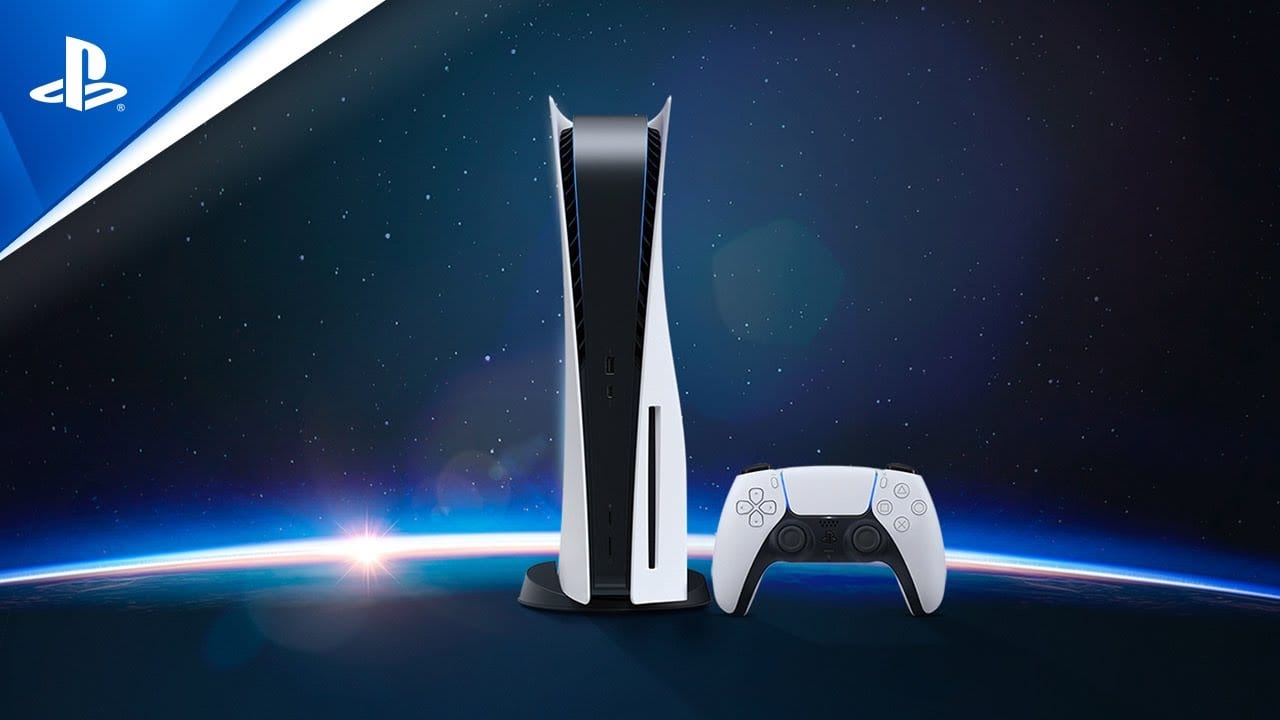 Best VPN for PS5 – Content Index
Now that we know that a Virtual Private Network can take the PS5 experience to a whole new level, let us show you what you're going to witness in this fully unbiased best VPN for PS5 review.
Introducing the Latest Generation of PlayStation Consoles
A lot of posts and articles have teased the release of Sony's latest gaming console for over a year now. We've seen pictures and specs that were so far away from being facts for quite some time.
However, Sony stepped in and started dropping news about its PlayStation 5 release date. We even got a look at its re-designed controller back on April 7, 2020.
The console itself saw the light on November 12, 2020, in New Zealand, North America, Australia, Japan, Singapore, and South Korea. One week later, PlayStation 5 was made available to the rest of the world.
Now, the new console is in no way similar to its predecessor in terms of specs. PlayStation 5 has the following to offer:
CPU: AMD Ryzen "Zen 2"
GPU: AMD Radeon RDNA 2-based graphics engine
System Memory: GDDR6 16GB 448GB/s Bandwidth
SSD: 825GB 5.5GB/s Read Bandwidth (Raw)
Optical Drive: Ultra HD Blu-ray (66G/100G)
Moreover, DualShock is no more. Instead, we'll be calling the new PS5 controller DualSense, which comes with an integrated microphone, a 3.5mm headset jack, and of course, a mute button.
Not to mention its adaptive triggers that allow users to experience varying levels of force and tension during their gameplay. With that said, let's talk about what's on everybody's mind, the playable games.
Two Models and Backward Compatibility
Sony is going with the backward compatibility option, allowing more than 99 percent of the 4000+ games available on PS4 to be playable on PS5.
That's awesome news for everyone who has a PS4, especially since they can move downloaded games, data and save files from their PS4 to a PS5 via LAN or Wi-Fi. They won't lose their progress while shifting to the new console.
Finally, with upgraded specs, PS5 users can play PS4 games with faster loading speeds and an allowed frame rate of up to [60 frames per second]." As mentioned, 99% of the games are compatible with PS5, and the rest aren't. That includes the following:
Robinson: The Journey
We Sing
Hitman Go: Definitive Edition
DWVR
Afro Samurai 2: Revenge of Kuma Volume One
TT Isle of Man – Ride on the Edge 2
Just Deal With It!
Shadow Complex Remastered
Shadwen
Joe's Diner
Aside from the games above, everything PS4 had to offer can be played on the new PlayStation 5 console.
In addition to everything that PS5 is offering, and as we mentioned in the introduction, PS5 is available in two models. The regular basic one that uses Ultra HD Blu-ray-compatible optical disc drive, allowing gamers to use discs (First hand or second hand), burrow them from friends, etc…
However, the second model focuses on digital aspects only. In other words, the Digital edition lacks the disk drive and serves as the lower-cost model for gamers who prefer to buy games through digital download.
Why Need a VPN for PS5?
It's pretty simple, actually. The reason why those who operate a PS5 would want to use a VPN is the same reason they'd want to use one on a smartphone.
A Virtual Private Network (VPN) allows us to secure our private data and hide our identity while browsing the web. It's not just about safety while visiting websites, no. Every device that connects to the internet is susceptible to all kinds of cyber threats, especially a PS5.
The new Sony platform is one of the best creations it has come up with so far. However, as we mentioned, the almighty PlayStation 5 has a lot more to offer, and that can only be done if a VPN is in place. Here's how a VPN can benefit every PlayStation 5 user:
Bypassing Geo-Restrictions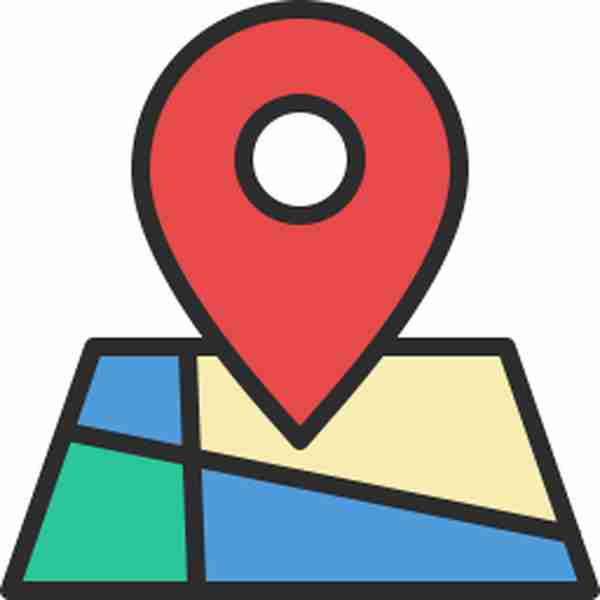 Some people may not know this, but the users' location dictates everything they get to access on the web. We're talking about websites, streaming channels, games, videos, etc…
Whenever someone visits a website or launches a streaming channel, the user's IP address gets examined to determine his/her current physical whereabouts. If the user is not within the channel's area of availability, he/she is not getting access.
For example, PlayStation 5 will host a wide range of streaming services, including the likes of Netflix and Hulu. Now, we'll be talking about Hulu as it's only available in the United States.
Hulu only allows those with a US IP address to view its content. In other words, streamers have to be located in the United States to be able to that. If that's not the case, they'll be greeted with an error message.
With a VPN, you can connect to a US server, obtain an American IP address, and watch Hulu no matter where you are. Please note that this works with other channels as well, provided you connect to a server in their respective countries.
So far, PlayStation 5 doesn't have the same amount of streaming applications as its predecessor, but it's getting there. Here's what you get with PS5:
Netflix
Disney+
Plex
Tubi
Pluto TV
Amazon Prime Video
Apple TV+
Hulu
Peacock
Crunchyroll
Funimation
Vudu
PlayStation 5 is yet to include the likes of CBS All Access, HBO Max, and Crackle Plus.
More Geo-location Issues?
Another form of geo-restrictions PS5 users will come across would be with "Game Availability." A lot of games get released in certain countries, while others are left out. While a lot of them would later be available globally, getting access to a specific game before anyone else could be fun.
Here's where a VPN comes in place as it allows users to change their location and IP address to the country where the game is available, enabling them to download it wherever they may be. Please note that you have to change your PSN region as well for this to work.
Finally, we have to note that the PlayStation 5 will also have a web browser. Therefore, users will also face the same restrictions and limitations they would on any other device (depending on their region, of course). So, if they want to get around these restrictions and access blocked websites in their country, a VPN is a must.
Enhanced Security & Privacy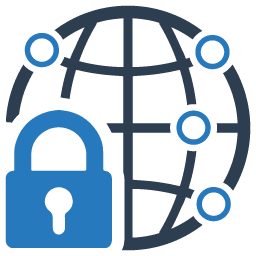 No matter what device is being used, if it connects to the internet, it can be hacked or monitored. That's just the sad truth about the World Wide Web. PS5 is no different than any other device out there, and when users are browsing the web, streaming, or gaming, the last thing they need is to be monitored or tracked.
Be it hackers, the government, or any other online entity; privacy comes first. An IP address shows a lot of information about the users, including their location. A VPN hides the IP address and replaces it with a temporary one as long as the connection is still established.
As a result, anyone who's using a PS5 can do whatever they want without having to worry about any surveillance entity out there. Most VPNs, including the ones on our list today, apply the AES 256-bit encryption standard, which keeps anyone's digital identity secure.
Moreover, using the PlayStation Store will require your credit card information to purchase stuff. This can be dangerous if hackers have set their eyes on your device. Again, here's where the VPN comes in for the rescue by encrypting your data and transferring it into unreadable information.
Finally, like any gaming console or platform, PS5 is susceptible to DDoS attacks. It's called a Denial of Service attack, where hackers target a single system or network and bombard it with illegitimate requests to either crash or slow down the server. Again, a VPN allows gamers to bypass that and avoid any kind of such attacks as long as a connection is present.
Bypass Internet Throttling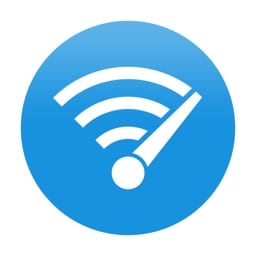 There's nothing worse during online gaming than slow internet speeds. No matter how fast your connection is, bandwidth throttling is bound to happen.
This incident occurs as your ISP deliberately messes with your internet and slows it down in the process. There are several reasons for that, be it monthly data cap reasons, payment issues, and more.
However, the ISP might do it even if the customer has an unlimited plan. Why would this happen then? Well, that may be a tricky plan to convince customers to upgrade to a more expensive contract.
Streaming and gaming have their demands – excellent speeds. Now, 4K streaming is available, and it's certainly useless if the internet speed isn't consistent. The same goes for gaming as due to slow speed rates, the game will lag, disconnect, and the experience gets ruined.
If you feel like your internet speed is below average, it must be your ISP throttling it. Fortunately, when you use a VPN, everything changes. Your ISP won't be able to determine what you're doing or throttle your speeds based on your IP address as you won't be using your original one to begin with.
You'll be browsing the web, streaming your channels, and playing online games while using a burrowed IP address. As a result, you'll be able to bypass your ISP's throttling techniques and enjoy buffer-free streaming, and of course, lag-less gaming.
VPN-PS5 Incompatibility – Your Options!
Subscribing to a VPN service is easy, but downloading the app on PlayStation is impossible as the platform is not natively compatible with VPN clients. However, despite the incompatibility, there are several ways to get a VPN connection on your PS5.
It's really quite simple. Just follow the guides listed below based on the method you prefer, and your PS5 will be secure in no time:
There you have it. These are the guides you'll need in order to establish a VPN connection on your PS5. Once you're done installing the VPN, you'll be able to browse the internet safely, play online games at excellent speeds, and stream geo-restricted content wherever you may be.
An Alternative? Enter Smart DNS
We already noted that a VPN client can't be directly installed on the PS5 console. However, top VPN providers have come up with a Plan B in order to make sure that every single device gets covered.
Now, security and privacy cannot be protected unless encryption is present, which only a VPN connection can grant. But that's not what we're looking for here.
PlayStation 5's full potential lies in unblocking content and being able to access whatever streaming channel/game anywhere in the world. Well, that can also be done using Smart DNS proxies.
It's a technology used solely for tricking services into thinking that a user is within a certain area. It only redirects the traffic that highlights a person's location, which means that no identity concealing techniques are applied.
Moreover, Smart DNS doesn't encrypt the users' data. So, as a result, there won't be any extra security, but the speeds will be unaffected. Smart DNS is easily set up and can be done straight on the console itself.
Now, you might ask yourself: Why this section if we're talking about the best VPN for PS5? That's because every single VPN in this review offers Smart DNS as part of their normal subscription. You have all the options you need.
Setting It Up
Configuring Smart DNS on your PlayStation Five is an easy task. All you have to do is follow the steps below. Note: We'll be using Unlocator as an example.
First, sign up with Unlocator. You can either opt for their Smart DNS service or both (with VPN).
On their website, follow the setup guides.
Restart your PS5 device.
Stream content on geo-blocked channels no matter where you are.
That's it. All the providers on our list today have the setup guides you need to get the job done. No extra software is needed at all.
The Best VPN for PlayStation 5 – Top 4
PlayStation 5 is Sony's current must-have console. The machine itself is great, but one can always enhance what it's capable of by using a VPN. Before we kick-off with our review, we have to note that all the VPNs on the list are premium ones.
We never recommend free VPNs as they'll do more harm than good. First, they only offer servers in a few locations – mostly in countries no one is interested in.
Second, they collect user data in exchange for revenue. They have no other way to pay their dues or to pay for the servers they operate. You become their main harvesting target.
Third, free VPNs are in no way quality products. The servers they offer are always slow, if not damaged, due to being overcrowded and poorly optimized.  In general, free VPNs are neither safe nor are they convenient for such a task.
Now, we ran each and every VPN on the list through a strict evaluation process to determine their efficiency when it comes to PlayStation 5. Here's what we got:
1. ExpressVPN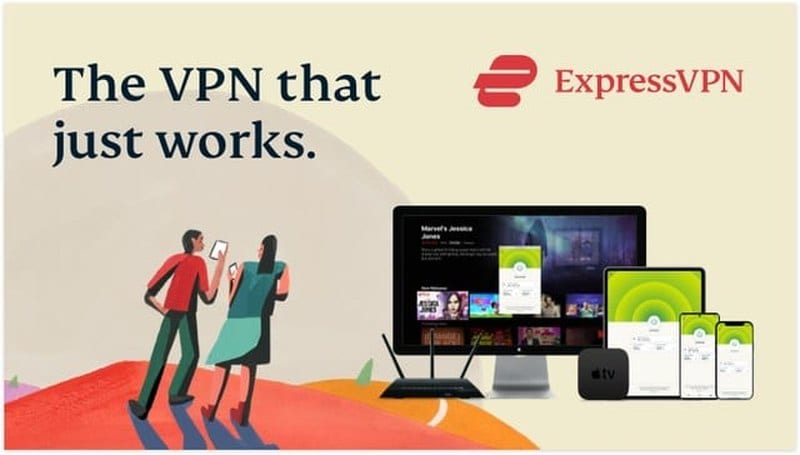 ExpressVPN has been around for more than a decade now, and it has delivered nothing less than an excellent performance so far. We thoroughly tested their service, and it provided fast, secure, and stable connections.
Privacy-wise, the provider is based in the British Virgin Islands, which is nowhere near any region where data retention laws apply. In other words, not in any of the Five Eyes territories.
When it comes to setting up ExpressVPN on PlayStation 5, things couldn't be any easier. The provider has several setup guides on its website, including how to install it on a router or PlayStation.
Now, we already mentioned that streaming or gaming relies heavily on speed, which is why we performed several speed tests using as many ExpressVPN servers as possible.
The results were excellent. No matter how distant the server was, ExpressVPN delivered fast rates, allowing us to stream content in 4K. On the other hand, ExpressVPN has its MediaStreamer technology (Smart DNS).
With this, users can bypass regional restrictions, watch/access geo-restricted content, and stream/play with minimal speed loss. Please remember that no extra security would be present.
By the time of writing, signing up for ExpressVPN includes 3 months free when users subscribe for 12 months. Finally, there's 30-day money-back guarantee that allows them to test the service out before opting for any long-term deal.
Pros
Five parallel connections.
Servers in 94 countries
Torrenting/P2P support.
Military-grade encryption.
It Unblocks American Netflix.
Fast servers.
Smart DNS feature (MediaStreamer).
30-day refund policy.
Split-tunneling.
Cons
Kind of expensive.
No free trial.
2. BulletVPN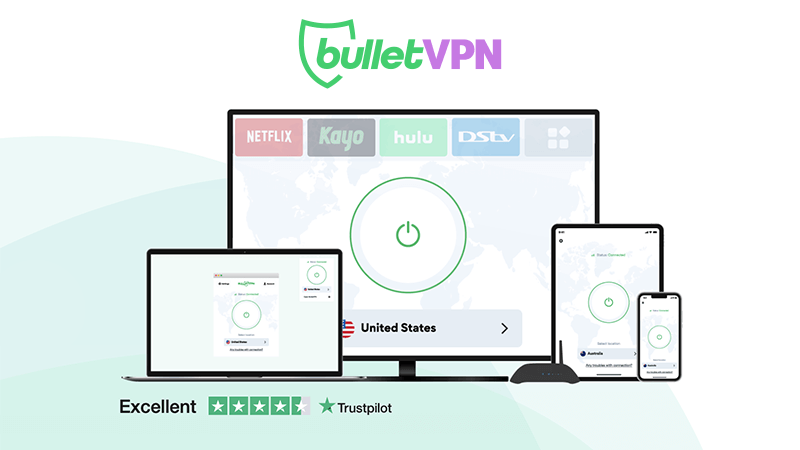 BulletVPN is another top provider on our list that will ensure an effortless experience with PlayStation 5. The service launched back in 2017 as a means to enhance a user's privacy and security, which is exactly what it does, courtesy of its top features and the fact that it's based in Estonia.
The service has an outstanding server distribution, covering more than 55 countries around the world. In other words, if you're trying to bypass restrictions and access channels from anywhere, you won't be running out of options.
BulletVPN provides all kinds of guides and walkthroughs to aid anyone with setting up its service. No matter what type of router you're using, BulletVPN has a guide for that.
Furthermore, the "Bullet" in the name didn't come out of nowhere, apparently. In fact, it reflects fast speeds, which were totally obvious during our thorough examination.
We used several servers in different countries, and the provider managed to maintain excellent speed rates. However, what we did notice is that they have dedicated servers called "UltraHD Support."
These servers deliver blazing fast connections capable of streaming content in 4K and playing games without witnessing any lags. Despite having amazing speeds, BulletVPN does offer a Smart DNS service.
So, if you're only into bypassing regional limitations, you can set it up directly on your PlayStation 5 and access all kinds of geo-restricted content wherever you may be.
You get to try BulletVPN out for free thanks to their 1-day free trial. You can claim that by contacting customer support. After that, you still have a 30-day refund policy to come up with a decision.
Pros
Six concurrent connections.
155 server locations in 55 countries
256-bit AES encryption.
Supports Netflix, Hulu, and other streaming services.
Smart DNS feature.
Excellent speeds.
30-day refund policy.
Kill Switch.
Bullet Shield.
1-day free trial
3. Surfshark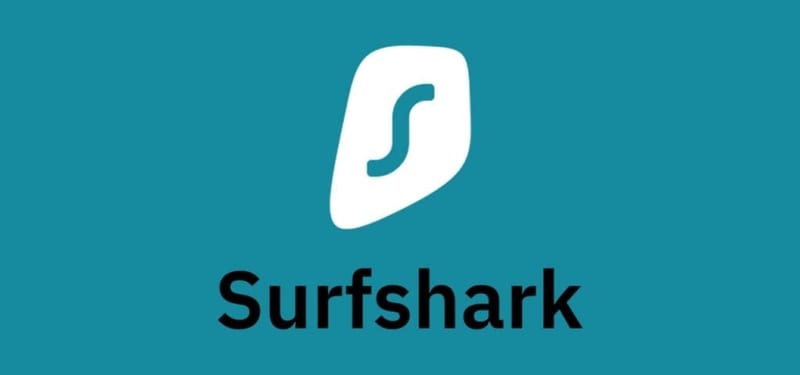 Launched in 2018, Surfshark made a big impact as the relatively new provider with all the means to rival the giants. You guessed it, Surfshark actually did that.
As of now, the service has more than 3000 servers across 65 countries. That is practically one of the best distributions in the entire industry. It has servers in key locations that allow PlayStation 5 users to unblock streaming channels everywhere.
We already stated that PS5 is not compatible with VPN clients. So, if you're not into setting Surfshark on your router, you configure its Smart DNS feature directly on your console.
Furthermore, Surfshak boasts top security and privacy measures to keep your gaming experience both smooth and safe. With top level encryption and impeccable cloaking techniques, you can avoid DDoS attacks as well as bypass your ISP's throttling.
Pros
Unlimited concurrent connections.
256-bit AES encryption.
Supports major streaming services.
Smart DNS.
30-day refund policy.
Kill Switch.
Adblocker.
Obfuscation technology.
Double VPN.
4. Unlocator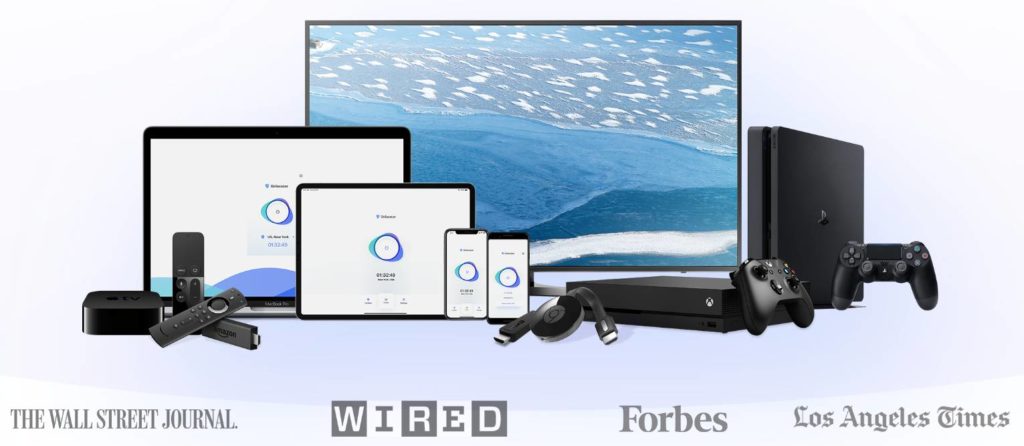 Unlocator was practically created for such gaming consoles as it first launched as a pure Smart DNS service. However, as of 2019, Unlocator expanded its services to include a VPN feature as well.
When we speak of privacy, we have to mention the country of origin. In Unlocator's case, it doesn't promise much as it's based in Denmark, one of the countries included in the 14 Eyes association.
That would be a problem for privacy-minded people if it wasn't for the provider's strict no-logging policy. This ensures that none of the users' data gets collected, stored, or shared in any way.
Unlocator's server network is decent, not that grand. It covers around 39+ countries, but their all key locations for major streaming services. Speed-wise, our test showed some mixed results.
Unlocator scored some pretty slow speeds on some servers, but some others did maintain good connections for HD streaming and smooth online gaming.
As mentioned, Unlocator was a pure Smart DNS service, which means the option is definitely available. As an added plus, Smart DNS has its own subscription. So, for those who don't want to invest in a VPN, they can purchase Smart DNS on its own.
Finally, Unlocator offers a 7-day free trial – no questions asked and no credit card information needed. Once that period is done, users can also benefit from their 30-day refund policy.
Pros
Five simultaneous connections.
256-bit AES encryption.
Unblocks major streaming services.
Smart DNS.
30-day refund policy.
Unlocator Shield
7-day free trial
Cons
No split-tunneling.
Inconsistent speeds.
Small server network.
5. NordVPN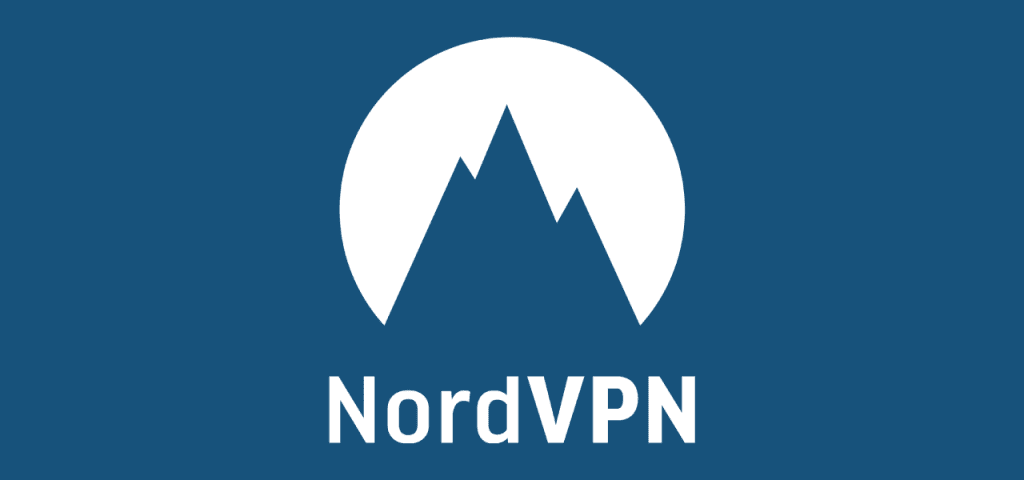 We'll be concluding our review with a VPN that has one of the largest server networks in the industry. NordVPN is based in Panama – a region far away from the reach of the Five Eyes alliance.
In other words, privacy is guaranteed, especially thanks to their zero-logging policy. NordVPN has more than 5000 servers in 59 countries, which is a number well appreciated by anyone looking to stream geo-restricted content on their PS5.
Speed wasn't that great, but it wasn't that bad as well. During our tests, we witnessed a couple of slow servers, and the rates kept decreasing when we used their Double VPN feature. It makes sense, though, as double encryption will cause twice the speed loss.
However, NordVPN did manage to provide fast speeds on some other servers, especially the nearby ones. Setting the VPN up was very easy – we had their setup guides with us all the way.
Now, speed won't be an issue if SmartPlay has been configured. That's their own Smart DNS service, which unblocks nearly any channel that a PS5 supports.
Aside from that, NordVPN excels in the security department. There's Double VPN (already mentioned, and their CyberSec technology. This one blocks viruses, malware, and any malicious software that may target a network/device.
Finally, NordVPN has a 30-day refund policy (no-questions-asked). They used to have a free trial but had to cancel it due to new users abusing the free service.
Pros
Six concurrent devices.
Servers in 62 countries.
High-level encryption.
Supports major streaming services.
Smart DNS (SmartPlay).
30-day refund policy.
Kill Switch.
Double VPN.
CyberSec
Split tunneling.
Cons
Some slow servers.
No free trial.
Best VPN for PS5 – Final Thoughts
From what we've seen, there's nothing not to love about the new PlayStation 5. However, some enhancements can be made with the help of a Virtual Private Network.
With an established connection, users get to access content that never existed in their region. All it takes is a reputable VPN, which is any of the ones we reviewed above.
The review is in your hands now. Let us know which VPN you picked and how it changed your entire gaming experience in the comment section below.
Best VPN for PS5
Refund Policy

Speed

Unblocking Capabilities

Smart DNS Availability

Support