BT Sport was one of the most popular sports streaming channels in the United Kingdom. Now, the service has turned a new leaf and rebranded itself to TNT Sports. Although changed, the channel still broadcasts the best in sports, such as football, UFC, Rugby Union, MotoGP, Champions League, Bundesliga, Seria A, Ligue 1, and MLS.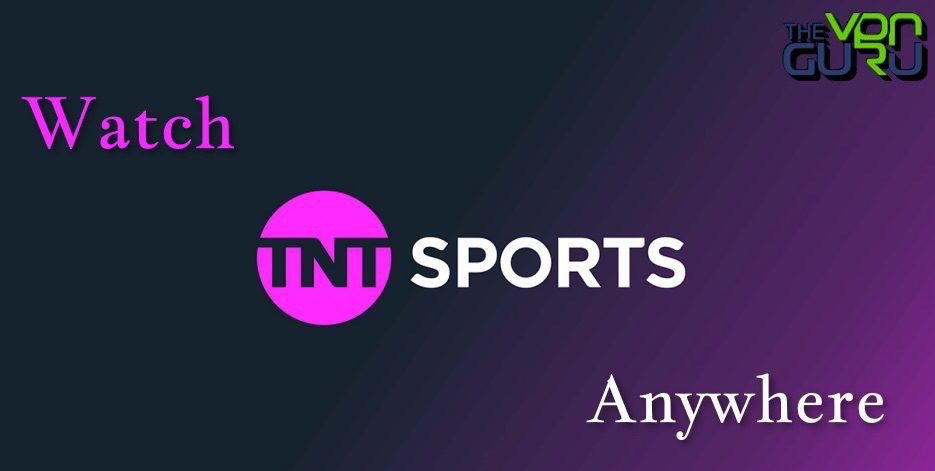 However, even though it's rebranded, the same predicament still exists – TNT Sports is geo-blocked abroad.
In order to bypass these geo-restrictions and stream TNT Sport overseas in the US, Canada, Australia, and anywhere outside the UK, follow this comprehensive guide.
Watch TNT Sports Anywhere – Quick Steps
Time needed: 4 minutes
Let's cut to the chase, shall we? The following steps are all you need to unblock TNT Sport outside of the United Kingdom:
Sign up with a credible VPN provider that has UK servers.

We highly recommend ExpressVPN for TNT Sports.

Download and install their VPN application on your device.

ExpressVPN has clients on major operating systems such as Android, iOS, PC, Mac, and Amazon Fire Stick.

Activate the VPN software and sign in with your credentials.

Once you're logged in, open the server list.

Now, connect to a server in the United Kingdom.

This process will grant you a British IP address.

Launch TNT Sports' website or application.

We'll show you how to get the TNT Sport app in a step-by-step guide below.

Sign in with your account and start watching.

Enjoy TNT Sports wherever you may be.
Unblock TNT Sports – The Full Guide
Now that you know how to get TNT Sports outside the UK, let's dig deeper into the matter. Here's everything you need to know about TNT Sports, its geo-blocking techniques, and how to get the app on any device you're operating:
But First! You Need The Following
Before you get to unblock TNT Sports, you must have everything on the list below:
A VPN subscription.
A Discovery+ account (Subscription)>.
A Discovery Plus-compatible device.
TNT Sports – Geo-Blocking Applies
In 2021, TNT Sports had millions of subscribers. However, this user base is only located in the UK as the channel applies geo-blocking to restrict any access from abroad.
In 2023, we can add all these subscribers to those who use Discovery+. Now that TNT is part of the service, users can enjoy all sorts of premium sports as well as entertainment programs.
Unfortunately, just like BT Sport, TNT Sports examines your IP address to pinpoint your physical whereabouts.
Once it figures out that your location is not within its coverage area, it'll block your attempt almost instantly. You'll know that you've been blocked when an error message pops up. BT Sport used to present one of these for overseas users:
"This content isn't available in your area."
"Could not download the video. Error Code: PLAYER_ERR_TIMEOUT."
"Sorry, but you're not able to watch this content outside the UK. (VP216)"
"We are having a problem playing this content. Please check you're connected to the internet and restart the app on your device."
"Sorry, this video is not available in your country."
"This content is only available to viewers in the UK."
Now that it has rebranded to TNT Sports, a different error message presents itself to those trying to access the channel abroad.
"TNT Sports is unavailable in your region."
As mentioned above, your IP address is the main factor that helps TNT Sports block your access overseas. To circumvent regional restrictions abroad, you must change that.
And what better way to do so than with a Virtual Private Network? Just follow the steps provided above and you'll have yourself TNT Sports no matter where you are.
TNT Sports Outside UK – A VPN's Benefits
A Virtual Private Network is an online tool that enhances your security and anonymizes your internet browsing.
Once you connect to a server, the VPN encrypts your data, deeming it completely unreadable by third parties, including hackers.
Also, it cloaks your IP address and replaces it with one based on the connected server's location. For example, if the server is in the United Kingdom, you'll receive a UK IP address.
As a result, you'll be able to access the likes of TNT Sports (Discovery+), Sky Go, My5, and anything restricted to the United Kingdom. That's not the only benefit you get from a VPN, as it's capable of so much more:
It bypasses ISP throttling, guaranteeing better connection speeds.
Protects your sensitive data while using public WiFi networks.
Hides your IP address, concealing everything you're doing from hackers, ISPs, and even your government.
Unblocks major streaming services (This depends on how credible the VPN is).
A VPN can be easily set up on Android, iPhone, iPad, PC, or Mac. Some top providers also have an application for Amazon Fire Stick.
One of the best VPNs for TNT Sports would be ExpressVPN. The decade+-year-old VPN has a huge server network and excellent connection speeds.
Moreover, ExpressVPN has a 30-day refund policy. So, in case you want to take this service for a spin, you can do so risk-free and get your money within the first 30 days of purchase if it doesn't live up to your expectations.
Now, ExpressVPN is our top recommendation, but it's certainly not the only provider capable of getting the job done. All the VPNs on the list below can unblock TNT Sport anywhere.
How to Install TNT Sports on Any Device Outside the UK
Alright then! Now, you have a VPN account and a Discovery+ subscription. All that's left is installing the app on your operating device.
Android
iOS
Samsung TV
Apple TV
Gaming Consoles
FireStick
Roku
Chromecast
TNT Sports Anywhere – FAQ
There are a lot of questions you're still wondering about. Don't worry! We're here to answer all of your queries.
Do I Need a BT Broadband to Watch TNT Sports Sports?
No. To watch TNT Sports, all you have to do is subscribe to Discovery Plus. The subscription costs £29.99/Month.
Can I Watch Boxing on TNT Sports?
Of course, you can. Aside from being one of the major Boxing broadcasters in the UK, subscribers can access premium boxing events through TNT Sports.
Is UFC Free on TNT Sports?
UFC Major events are still shown through the "Box Office" platform, and they mainly cost £19.95.
What Devices Can I Watch TNT Sports on?
Discovery+ is available for streaming on several operating systems, such as:
Android TV
NOW TV
PlayStation 4
Xbox (One, One S, and One X consoles)
Fire TV
Samsung Smart TVs (2015 models onwards)
Google Chromecast
Apple TV
Roku
Does Discovery+ Use GPS on iOS Devices?
The channel not access your Location Services, giving you the chance to stream its content on iPhone and iPad with ease.
Does Discovery+ Support 4K?
Discovery Plus does have UHD support, but not for its live content.
TNT Sports Outside the UK – The Conclusion
Given TNT Sports' coverage of the Champions League, MLB, NBA, and Nascar, it's well worth all the work. Technically, what you need to do isn't that hard.
We've included every single step you need to watch TNT Sports in your country. If you have more questions, let us know in the comments below.