How to Watch Euro 2020 Live Online
|
Soccer fans around the world, are you ready? It's time for the most anticipated football tournament of this year – The Euro 2020. Last year, the 16th edition of the tournament was postponed due to the pandemic in Europe. Now, on June 11th, 2021, the UEFA European Football Championship kicks off with a bang with a hotly-anticipated match between Turkey and Italy. Streaming channels worldwide are covering all 51 matches, but they're strictly restricted to their respective countries. So, the question is: How can you watch Euro 2020 live online? Find out in this detailed guide.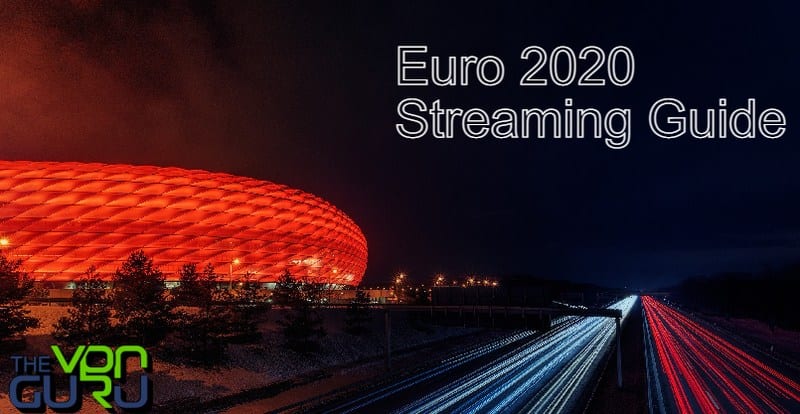 Euro 2020 – The Streaming Channels
The 2016 Euro, which was boosted by Christiano Ronaldo's title win and Iceland's feel-good story, saw one of the biggest viewership rates in the competition's history.
In fact, more than two billion people watched Euro 2016 live on television, and 600 million of them tuned in to the final alone. Such a number can be achieved easily, considering how popular the championship is.
However, we have to note that most of the viewers came from Brazil and China, which helped raise the total. Global reach is everything, and UEFA made sure of that by appointing official broadcasters all over the world.
With so many channels available, you definitely won't be missing a single strike. With that said, here are the official Euro 2020 broadcasters:
Dozens of channels are covering the event this year; some are free, some are paid. But one thing for sure, all of them are geo-restricted. The problem with geo-restrictions is that every channel cannot operate outside its respective country.
In other words, if you don't have an official broadcaster in your region, you won't be able to access one from abroad. This is just how geo-blocking works. That won't be a problem after you're done with this guide.
Restrictions Apply – Location Matters
Before we head to the solution, we must first address the issue at hand. Services and websites use geo-blocking to restrict user access based on their location. That's mainly for copyright reasons.
The streaming channels in the list above can determine your physical whereabouts by examining your IP address. If you reside outside the channel's coverage area, it'll block your access almost instantly.
This is quite frustrating as most of the channels are paid ones, and there are a couple of them that offer Euro live streaming for free in other countries yet can't be accessed. As an example, we'll be giving you an error one of the free channels shows once accessed abroad.
BBC iPlayer is an all-time great, offering top content in the United Kingdom. Emphasis on the UK as it's not available elsewhere. Once you try to stream the channel abroad, this error message appears:
"BBC iPlayer only works in the UK. Sorry, it's due to rights issues."
Unless you have a UK IP address, BBC iPlayer won't operate in your region, neither will any of the other channels if you lack the required IP. Fortunately, this issue can easily be fixed if you make use of a Virtual Private Network, which is the ultimate tool for bypassing geo-restrictions.
Euro 2020 – Global Streaming Allowed
As mentioned, you only get to access what your location allows on the internet. In other words, your IP address determines what you get to visit/watch. If you were to change that, your entire online experience would change.
With a VPN, this task couldn't be any easier. First and foremost, a VPN is one software you should always use while browsing the web. It protects your data using military-grade encryption and hides your IP address in the process.
As soon as you establish a connection, you'll receive an IP address in the country where the server is based, granting you full access to restricted content in the area.
For example, if you connect to a UK server, you'll receive a British IP address. As a result, you'll be able to watch the likes of BBC iPlayer, ITV, Sky Go, Channel 5, and more wherever you may be.
Euro 2020 Anywhere – The Steps
VPNs have dedicated clients on major operating systems, making it very easy for you to establish a connection. With one click, you get to travel the world virtually. With that said, here's what you need to do in order to watch the 2020 Euro live anywhere:
At first, subscribe to a VPN with servers in the country of the channel you wish to unblock. We recommend using ExpressVPN for Euro 2020 live streaming.
Next, download the VPN application from their website or your dedicated app store.
After that, activate the client, sign in with your credentials, and open the server list.
Connect to a server where your chosen channel operates:

UK server allows access to BBC iPlayer and ITV (Free streaming)
French server unblocks TF1 (Free Streaming)
Italian server for Rai Play (Free Streaming), etc…

Launch the channel's website or app.
Enjoy streaming the entire 51 matches of the Euro 2020 wherever you are.
There you have it. We told you, it's an effortless task. Just a few clicks here and there, and you'll get to stream Euro 2020 anywhere.
Our Recommendation!
ExpressVPN has been around since 2009, offering top services and security features to hundreds of customers. The provider has more than 2500 servers across 94 countries, which gives plenty of options to choose from.
The likes of BBC iPlayer have been banning VPNs for quite some time now. However, ExpressVPN, along with other top providers, have found a way to bypass such a VPN ban, making them your top choice for the job.
Along with excellent speeds, a kill switch, and split tunneling, ExpressVPN grants you a 30-day refund policy. With that, you get to test the service before opting for any kind of subscription.
Now, ExpressVPN is grand and all, but it's definitely not the only VPN out there. In the table below, we've listed 4 of the best VPNs for streaming. Check them out if ExpressVPN isn't what you're looking for.
Euro 2020 – What's Going On?
The 2020 Euro was heavily affected by the Coronavirus pandemic, forcing UEFA to postpone it for a year. The wait is over, and one of the most anticipated championships will run from June 11th, 2021, till July 11th, 2021.
The games will be held in 11 countries, and the stadiums will include a live audience. In fact, St Petersburg and Baku are going to accept capacities of 50%, while Wembley has confirmed a minimum capacity of 25%.
On the other hand, Budapest is aiming to host 100% of the stadium's capacity. Of course, it's going to apply strict stadium entry requirements for spectators. The championship is going to be as exciting as ever, and here's what we know:
Groups
The groups have been assigned, and each one contains top teams that'll be competing against each other during this stage. However, we all have our eyes on Group F as it includes 3 giants, including the finalists in the 2016 edition of the tournament. Not to mention a former World Cup Winner – Germany.
We all know this rematch is going to be epic. As of now, here's how the groups stand:
| | |
| --- | --- |
| Group A | Italy, Switzerland, Turkey, Wales |
| Group B | Belgium, Russia, Denmark, Finland |
| Group C | Ukraine, Netherlands, Austria, North Macedonia |
| Group D | England, Croatia, Czech Republic, Scotland |
| Group E | Spain, Poland, Sweden, Slovakia |
| Group F | Germany, France, Portugal, Hungary |
Schedule
This year's schedule is practically identical to the one assigned before the tournament was postponed. One slight change would be that the first match will occur on June 11 instead of 12, just so the match would remain on a Friday. You can find the full Group Stage schedule below:
Friday, 11th June
Italy vs. Turkey (Rome; 3 p.m. ET, 9 p.m. CET)
Saturday, 12th June
Wales vs. Switzerland (Baku)
Denmark vs. Finland (Copenhagen)
Belgium vs. Russia (Saint Petersburg)
Sunday, 13th June
England vs. Croatia (London)
Austria vs. North Macedonia (Bucharest)
Netherlands vs. Ukraine (Amsterdam)
Monday, 14th June
Scotland vs. Czech Republic (Glasgow)
Poland vs. Slovakia (Dublin)
Spain vs. Sweden (Bilbao)
Tuesday, 15th June
Hungary vs. Portugal (Budapest)
France vs. Germany (Munich)
Wednesday, 16th June
Finland vs. Russia (Saint Petersburg)
Turkey vs. Wales (Baku)
Italy vs. Switzerland (Rome)
Thursday, 17th June
Ukraine vs. North Macedonia (Bucharest)
Denmark vs. Belgium (Copenhagen)
Netherlands vs. Austria (Amsterdam)
Friday, 18th June
Sweden vs. Slovakia (Dublin)
Croatia vs. Czech Republic (Glasgow)
England vs. Scotland (London)
Saturday, 19th June
Hungary vs. France (Budapest)
Portugal vs. Germany (Munich)
Spain vs. Poland (Bilbao)
Sunday, 20th June
Italy vs. Wales (Rome)
Switzerland vs. Turkey (Baku)
Monday, 21st June
North Macedonia vs. Netherlands (Amsterdam)
Ukraine vs. Austria (Bucharest)
Russia vs. Denmark (Copenhagen)
Finland vs. Belgium (Saint Petersburg)
Tuesday, 22nd June
Czech Republic vs. England (London)
Croatia vs. Scotland (Glasgow)
Wednesday, 23rd June
Slovakia vs. Spain (Bilbao)
Sweden vs. Poland (Dublin)
Germany vs. Hungary (Munich)
Portugal vs. France (Budapest)
You can check the full tournament schedule by visiting UEFA's official website.
Stream Euro 2020 Anywhere – Parting Words
UEFA's 16th edition of the tournament is set to take place on June 11th, 2021. Now, you have everything you need in order to stream all 51 matches live wherever you are.
With a VPN, there won't be any limitations to block your way. The internet becomes your own playground – with extra security, of course. We hope that this guide helps you with your problems. In case you need any help, please drop us a line or two in the comment section below.