The German TV market is heating up. It has been reported that VoD services are threatening the cable market. Netflix now has more subscribers than Sky Deutschland in the country. As a result, Deutsche Telekom joined the battle and launched a new OTT service, dubbed Magenta TV.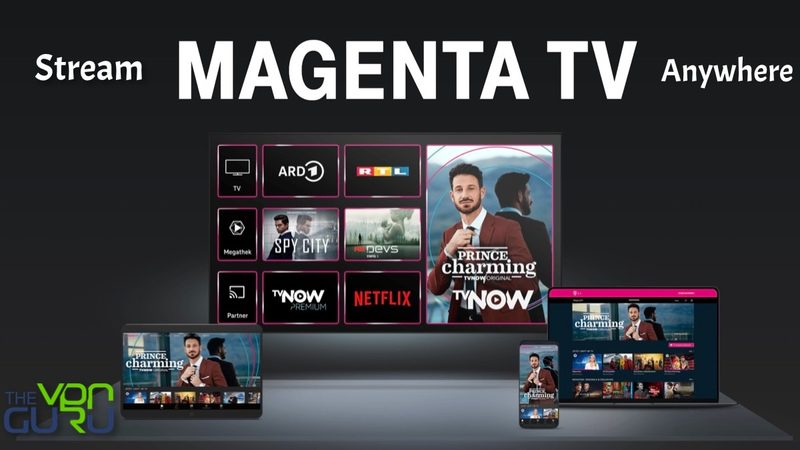 The online service offers shows and movies as well as programming from the popular German pubcasters ARD and ZDF. However, just like those services, Magenta is also only available in Germany. Well, not for long. Here's how you can watch Magenta TV anywhere.
Stream Magenta TV Anywhere Outside Germany
Time needed: 5 minutes
Magenta TV relies on your IP address to determine whether you're within its coverage area or not. To access the channel, you have to reside in Germany, i.e., have a German IP address. To sum it up, this is what you need to do:
First, subscribe to a VPN service.


We highly recommend BulletVPN as it proved to be one of the only VPNs capable of unblocking the channel.

Download and install their VPN application on your device.


BulletVPN clients support Android, PC, Mac, iOS, as well as FireStick.

Next, activate the VPN application.


Sign in and open the server list.

Search for a German server and connect.


You'll receive a German IP address.

Wait a few seconds and check your new IP address.


You can do so by using this IP Verifier.

Launch Magenta TV's website or application.


We've included a step-by-step installation guide below.

Stream top German TV anywhere.

Enjoy top movies, series, as well as sports wherever you are.
Stream Magenta TV Anywhere – In-Depth Guide
Your ticket to Magenta TV anywhere is right above. However, we covered every single aspect of the channel in this fully detailed review. Make sure to go through it for more information:
What You'll Need
Before you dive deeper into our guide, make sure you have the following:
BulletVPN account.
A valid Magenta TV subscription.
A Magenta TV-compatible device.
Excellent internet connection.
Magenta TV – German to the Core
The service is very popular on German soil. However, if you're a German ex-pat living abroad, accessing the channel becomes a bit difficult due to geo-restrictions.
Even if you have a valid account, once you leave the country, you'll lose access to Magenta TV. The process is called geo-blocking, where streaming services and websites restrict access to their content based on the user's location.
Magenta happens to be only available in Germany and only residents there can navigate through what it has to offer. If you launch the channel with a non-German IP address, you'll receive an error message that looks like this:
Abspielen nicht möglich. Der Inhalt kann nur in Deutschland und im EU-Ausland abgespielt werden, nicht in Drittländern. Zum Abspielen im EU-Ausland müssen Sie sich zuvor alsWohnsitzinhaber in Deutschland identifizieren. (E792FA184CF8176A063E65A458DB884D)



Now you know what the problem is. It all lies in your IP address, which helps websites track your physical location. With a VPN, you can easily alter your virtual location and appear to be wherever you want.
A VPN's Benefits
A German IP address can easily be obtained if you use a Virtual Private Network. Globally known as a VPN, this internet software can bypass regional restrictions by changing your virtual location to a country of your choosing.
First and foremost, VPNs are security tools used to maintain users' online privacy and enhancing their security. Once you connect to a VPN server, it encrypts your data and cloaks your IP address, replacing it with a new one in the country where the server is based.
With this new IP, you can access restricted content in that region no matter where you're physically residing. For example, if you connect to a server in Germany, you will obtain a German IP address. As a result, you'll be able to stream the likes of Netflix Germany, DAZN Germany, Sky Deutch, and Magenta TV.
We evaluate VPN providers based on several factors. That's why we picked BulletVPN as a recommendation. The provider ensures your online privacy, protects your data with military-grade encryptions, and helps you bypass the toughest VPN blocks and regional restrictions.
It keeps no logs of your activity and provides safeguards like a kill switch that stops data transmission if the VPN connection drops at any point.
Finally, BulletVPN allows you to test their service for a whole month risk-free courtesy of their 30-day money-back guarantee. In the end, it's up to you. If ExpressVPN is not what you're looking for, make sure to check the following table as it represents the best VPNs for Germany.
Magenta TV on Any Device Anywhere
In this section, we're going to show you how to install and watch Magenta on any device you may be operating. We're going to assume that you already got yourself a Magenta subscription:
Android
iOS
Desktop
Apple TV
Samsung TV
FireStick
From EntertainTV to MagentaTV
Magenta TV offers a wide range of content to its subscribers. You can get exclusive access to thousands of titles from ARD and ZDF at no extra charge.
The service is not expensive at all. Subscribers can get live TV, on-demand content, and the "Megathek" (mega library) for 7.95 euros/month, regardless of the internet provider.
Moreover, users can access around 75 TV channels, including 45 in HD (high definition). But why is Magenta TV having such an impact on German television? Well, that's mainly because it does not require any long-term commitment.
Magenta now has over 4 million subscribers in Germany, which is a good number considering the service has only been around since October 2018. It's not stopping there.
Sports fans are also interested in Magenta TV as it's now eying for the Bundesliga. As I mentioned, Magenta TV offers live television. That includes top sporting events. According to Dirk Wössner – Telekom's chief executive:
"MagentaTV is synonymous for sports, where football plays an important part, which is why the Bundesliga rights are generally interesting for us and our viewers."
If that happens and Magenta manages to capture such a league, you can tell that their subscribers base will skyrocket soon. Here's what Tim Höttges, CEO of Deutsche Telekom has to say:
"Our business performed well in all areas again in the first half of 2019. That puts us in a position to deliver the results we promised."
That's actually true as Magenta TV now offers thousands of shows, movies, and even prestigious sporting events in the country.
More to Know About Magenta TV
The guide above should definitely get you Magenta TV in your country. However, we assume that most of you have a lot of unanswered questions. Let's shed more light on the matter:
No. The channel requires a subscription in order to view its content. The cost starts at 10 € monthly.
How Many Channels Can I Watch on Magenta?
What Devices Can I Watch Magenta TV on?
You can stream Magenta TV using Windows, Mac, Android, iOS, Apple TV, Chromecast, Samsung Smart TV (Tizen), Amazon Fire Stick, and Android TV (Sony, Nvidia Shield TV, Magenta TV Stick, Xiaomi, HiSense, etc.).
Where is Magenta TV Available?
Magenta TV is available in Germany, Austria, and the rest of the European Union. With the help of a VPN, you can watch it anywhere in the world.
Can Any VPN Unblock Magenta TV?
No. According to our tests, most VPNs failed to get the job done. However, BulletVPN managed to unblock Magenta in our region seamlessly.
Can I Watch Euro 2020 on Magenta TV?
You can stream every single match of the 2020 Euro live on Magenta. It's the official broadcaster in the country.
Magenta TV Anywhere – Final Thoughts
Magenta TV works under the motto "Simply one for all." However, geo-restrictions make it one for Germany only. That's why you need a VPN to change your location and trick the channel that you're within its area of coverage.
Once you're done, you'll get more than 10000 German titles no matter where you are. In case you need any help setting up a VPN on your device, contact me in the comment section below and I'll help you out.