How to Watch Showtime outside the US
|
How to unblock and watch Showtime outside the US? If you live in UK, Australia, Canada, Germany, France, Italy, the widely popular channel, Showtime, is geoblocked in your region.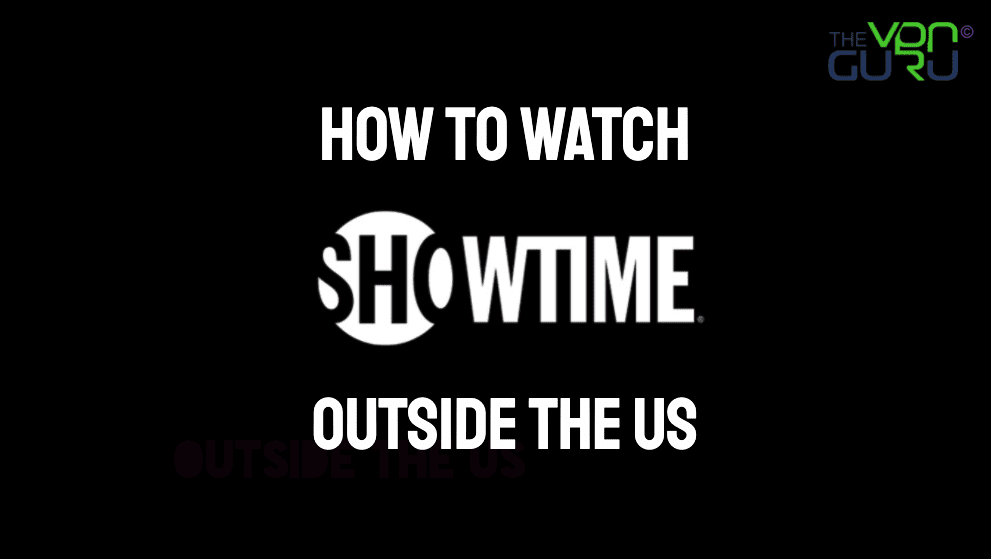 Showtime is a great streaming service to have in your region. That's why we created this guide to help you out with your task. Here's how you can unblock and stream Showtime anywhere outside the US.
Unblock Showtime Anywhere – Quick Guide
Time needed: 4 minutes
Unblocking Showtime outside the USA is an easy task, which is why we won't be taking too much of your time. If you have 4 minutes to spare, here are the steps you need to get Showtime in your region:
Subscribe to a VPN service.

We highly recommend ExpressVPN for its diversity in server distribution, especially in the US.

Download and install the VPN app on your device.

VPN clients can be downloaded on Android, PC, Mac, and iOS.

Activate the VPN software and sign in with your account.

You'll be prompted to verify your account via a link in your email.

Connect to an American server.

This will give you a US IP address.

Launch Showtime's website or application.

We've included a comprehensive guide on how to get Showtime on any device below.

Sign in with your Showtime account.

If you don't have one, you can check below as we'll tell you how you can create an account.

Watch Showtime anywhere.

Stream premium shows, movies, and boxing matches wherever you are.
Get Showtime Anywhere – The Full Guide
The steps above are only a chunk of what we have in stores for you. To learn more, check this in-depth walkthrough:
What You Need
Unblocking Showtime is easy if you follow the steps above. However, before you get to do that, you'll need these:
A VPN subscription.
Showtime account.
A Showtime-compatible device.
Can I Watch Showtime in My Country?
The difference between the new Showtime streaming channel and the older Showtime Anytime app is that you do no longer need a US cable subscription to watch it online. Simply sign up and watch all the Showtime content you want.
Well, we wish it was that simple. Despite making it easy for streamers to cut the cord, Showtime itself is not available outside the US.
In fact, Viacom recorded over 36 million subscribers to both of its Paramount+ and Showtime services combined. All of these subscribers are located in the United States.
The channel geo-blocks its content overseas, which means that no one living abroad is watching anything. Showtime looks up your IP address to determine your location.
If it's not a US IP, these error messages are all you'll be getting:
"SHOWTIME is accessible for viewing solely in the United States and its territories and possessions."
"Access to this resource is forbidden by access policy."
"Experiencing Technical Difficulties."
"HTTP 403."
This can be very frustrating, especially since Showtime has finally given us the chance to stream its content without a cable TV subscription.
Nonetheless, we've provided the perfect guide to unblock Showtime outside the US. All you have to do is follow the steps above and Showtime is all yours.
Unblock Showtime outside US using VPN
A Virtual Private Network is the ultimate security tool for those who want to surf the web safely and anonymously. It encrypts your data using military-grade encryption, making it totally unreadable by hackers.
On the other hand, it conceals your IP address, anonymizing your browsing activities in the process. Not only that, but it grants you an IP address based on the server's location.
This gives you full access to any restricted website/channel available in that region. Aside from that, a VPN can do the following:
Bypasses ISP throttling and guarantees better speeds.
Secures your sent and received data with military-grade encryption.
Hides your IP address and your browsing activities from your ISP or government.
We already recommended ExpressVPN and now, it's time to show you why. The provider has been around for quite some time, offering access to servers in more than 160 locations.
Moreover, our tests showed that ExpressVPN can maintain excellent speeds, despite having one of the best encryption mechanisms in the industry.
Finally, ExpressVPN has a 30-day refund policy. With that, you get to try their service out risk-free, before having to opt for any long-term subscriptions.
While ExpressVPN is our top recommendation, it's certainly not the only one capable of unblocking Showtime outside the US. Take a look at the table below and check other top providers:
Unblock Showtime Using Smart DNS
The Showtime website is geoblocked outside the US. To bypass these geographic restrictions, you have to hide your location from Showtime. This can be done using Smart DNS.
Smart DNS can be set up on your router or other streaming devices such as Smart TV, Android, Amazon Fire TV, Chromecast, PS3, PS4, Xbox.
Once Smart DNS is set up correctly, you will be able to access most geoblocked channels from the US, UK, Australia, Canada, France, Germany, and other regions.
Smart DNS doesn't change your IP address. This allows you to navigate between your local channels and restricted ones simultaneously.
No encryption is present with Smart DNS, giving you better speeds for streaming.
All of the providers in the table above offer Smart DNS. Once you subscribe, full access to both VPN and Smart DNS services will be granted.
If you want to test what Smart DNS has to offer, try BulletVPN out. They're the only provider on our list that has a 1-day free trial.
How to Subscribe to Showtime Outside the US
To stream Showtime's content, you must first sign up for the service. Here's how you can do so:
First, connect to an American VPN server.
Head over to https://www.sho.com/
On the top right of the screen, select Get Showtime.
Next, click on Get Started.
Enter your email and password.
Submit your Credit Card information, along with a valid US billing address.
You now have a Showtime account.
How to Get Showtime on Any Device Outside the US
At this point, we'll assume that you already have a VPN and a Showtime subscription. What's left is getting the channel's app on your device, which you can learn below:
Android
If you're using an Android device (mobile, tablet, TV) to watch Showtime, this is what you need to do:
Install the VPN app on your device and connect to a US server.
Switch your Play Store's region to the US and download Showtime.
Launch the channel's app.
Sign in with your account and start watching.
iOS
To get Showtime on your iPhone or iPad, the following steps are required:
Get the VPN app on your device and establish a US VPN connection.
Change your Apple Store region to the United States and download the Showtime app.
Activate Showtime, sign in, and watch wherever you are.
Apple TV
Smart TV
To get Showtime on your Smart TV, here's what you need to do:
Install the VPN on your router (US connection) or configure Smart DNS on your TV.
Change your Smart TV's region to the USA and get the Showtime app.
Launch Showtime, sign in, and stream premium content wherever you are.
Gaming
If you happen to be using PlayStation or Xbox as streaming hubs, you can Showtime by following these steps:
Set up a US VPN connection on your router or configure Smart DNS on your console.
Change your gaming console's region to the US and download the Showtime app.
Open Showtime, sign in, and stream away.
Desktop
On PC or Mac, Showtime can be accessed using the following steps:
Download the VPN app on your device and connect to a US server.
Head over to https://www.showtime.com/
Sign in with your account.
Stream Showtime anywhere.
Roku
Chromecast
Getting Showtime on Chromecast differs from how you can do it on other devices. The following is needed to be done:
Download the Showtime app on your Android or iOS mobile.
Launch the app and sign in.
Play a video and click on the Cast option.
Stream Showtime on your TV via Chromecast anywhere.
FireStick
On FireStick, the following steps are needed to get Showtime outside the US:
Install the VPN on your Fire TV device and connect to a US server.
Change your Amazon account's region to the US and get Showtime.
You can also sideload the app directly to your Fire Stick.
Activate the app, sign in, and watch your favorite shows, movies, and boxing fights.
Showtime Anywhere – The FAQ Section
If you have more questions, we've answered most of our readers' inquiries below:
I Have a Cable Subscription – Can I Access Showtime?
If you want to sign in using your TV provider, you'll have to download the Showtime Anytime app. The Showtime OTT service requires a basic subscription that allows you to cancel anytime.
Can I Access Showtime without Subscribing to the Channel?
If you want to stream Showtime directly through its app or website, you have to subscribe. However, you can access Showtime through various other ways:
Subscribe to Showtime with Prime Video Channels.
As a Premium Add-on with your Hulu subscription.
You can add Showtime to your pay TV subscription.
Access Showtime through Spectrum TV.
Get Showtime with fuboTV, Sling TV, or AT&T TV Now.
Can I Watch Showtime for Free?
Unfortunately, no. Showtime requires a monthly/yearly subscription. However, if you're a new subscriber, you can benefit from a 30-day free trial (Credit card info needed).
What Top Shows Can I Stream on Showtime?
Once you get yourself a subscription and unblock Showtime, you'll be able to stream premium shows such as:
Ray Donovan.
Masters of Sex.
Snowpiercer.
Homeland.
Boyhood.
Penny Dreadful.
Dexter.
Shameless.
The Horse Whisperer.
What Devices Can I Watch Showtime on?
You can stream Showtime on the following devices:
iOS
Desktop (PC, Mac)
Apple TV
Android
Chromecast
Android TV
Chromecast
PlayStation 4
Fire Stick
Smart TV (LG, Samsung)
Roku
Xbox
How to Unblock Showtime outside USA?
The streaming channel also gives you access to live TV via dedicated channels (east and west). It's a shame the new VOD service is not available overseas.
Now, with this guide, Showtime goes global and everyone can have a taste of what the premium channel has to offer. If you have more questions, please drop them in the comment section below.