Do you want to unblock Vudu outside the US? Vudu is an internet streaming service similar to Netflix. It allows its subscribers to watch, rent, or buy movies and TV shows online. However, the channel is not available everywhere.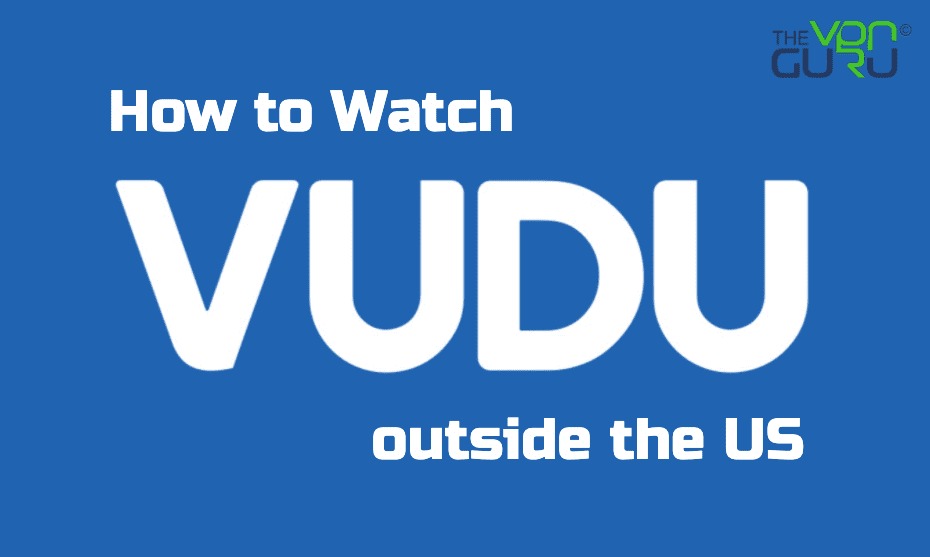 For years, there have been talks about an international expansion of Vudu, but, so far, nothing's been put into place. The channel is currently only available in U.S.A and Mexico.
Ask yourself this "Can I watch Vudu outside the US?" Well, the answer is "Yes, you can." All you have to do is follow this comprehensive guide and Vudu will be all yours no matter where you are.
Watch Vudu Anywhere – Quick Guide
Time needed: 4 minutes
In order to watch Vudu outside the US, the following steps should be taken:
Subscribe to a VPN service that has US servers.

We recommend ExpressVPN as it offers a lot of those in the country.

Download and install the VPN application on your device.

You'll find dedicated clients on Android, iOS, PC, Mac, as well as FireStick.

Open the VPN app and sign in with your credentials.

Once you're in, open the VPN server list.

Connect to an American server.

You'll receive a US IP address.

Launch Vudu's website or application.

You can learn how to get Vudu on your device by following the steps below.

Sign in with your account.

If you don't have one, there's a step-by-step guide to teach you how.

Now, stream Vudu wherever you are.

Watch movies, series, and more on Vudu anywhere.
Watch Vudu Anywhere – The Full Guide
There's more to Vudu than the steps above. Take a minute or two to go through this full guide for a better understanding of what geo-restrictions are, how to circumvent them, and much more.
The Materials Needed
To get Vudu abroad, you must first have all of the following:
A VPN subscription.
Vudu account.
A Vudu-supported device.
Is Vudu Available in My Country?
If you live in the United States or Mexico, the answer is Yes. If not, we're sad to say that you don't have access to Vudu's content due to licensing rights and agreements.
Websites and channels apply geo-blocking, where they restrict user access based on his/her location. If you're not within the support coverage area, you won't be able to watch or access anything.
Most of the time, the channel or website you're trying to access from an unsupported region presents you with a geo-error message.
In Vudu's case, there's that, and more. First, here are the error messages you get if you try to access Vudu abroad:
"This page isn't working. If the problem continues, contact the site owner. HTTP ERROR 400."
"Login failed."
These are the errors that show up if you can even get past the main page. In fact, if you approach the channel with a foreign IP address, their website won't even open.
On their app, the login process won't be completed if you're overseas. That's how Vudu's geo-blocking technique works.
To bypass these geo-restrictions and watch Vudu in your country, a Virtual Private Network is needed. Aside from that, you have to follow the steps provided above.
A VPN – What Benefits Do I Get?
A VPN, aka, Virtual Private Network, connects you to a server in a country of your choosing, giving you an IP address in that region.
With that alternate IP address, you get to access restricted websites/channels despite being physically abroad. For example, if you connect to a US server, you'll receive a US IP address.
Consequently, Vudu will think you are located in the States and thus grant you access to its blocked content. Now, a VPN might be the ultimate unblocking tool, but it does have several other benefits.
Take a look at what VPNs do to enhance your internet experience:
Encrypt all your traffic and stop ISP, hackers, and government from spying on your online activity
Change and hide your IP address, granting you anonymity online
VPNs cannot be blocked by ISP policies as DNS hijacking and Transparent proxies.
Allow you access to all your favorite blocked channels like Netflix, Now TV, Hulu Plus, Pandora, Crackle, and many more.
ExpressVPN provides multiple US servers and great support. They also offer blazing fast speeds suitable for high-quality streaming, which is exactly what you need for Vudu.
On the other hand, ExpressVPN isn't the only provider capable of getting the job done. In fact, 3 more VPNs made our list courtesy of our thorough evaluation process. Check them out in the table below.
More Devices? Use Smart DNS Proxies
If your device doesn't support VPN, you can alternatively choose Smart DNS to access geo-restricted streaming services such as Vudu, Netflix, BBC iPlayer, WWE Network, UFC Fight Pass, or Amazon Instant Video.
Smart DNS is a great tool in its own right. A Smart DNS redirects some of your connections via a US server to get Vudu to think you're located in the US.
Smart DNS has other benefits:
No slow down in internet speed since Smart DNS avoids passing all your traffic through its servers.
Local IP address does not switch to a foreign one, so your access to your local sites is not provoked.
Access various restricted channels from different regions at the same time. For example, BBC Iplayer and Canal Plus, while changing Netflix regions to the USA or other.
You do not need to install any additional software to make it work.
Works smoothly on all your favorite consoles and appliances (PS3, PS4, Xbox, iPhone, iPad, Android, Smart TV, Blu-ray players..)
The services in the table above offer Smart DNS as part of their subscription. You can give it a try if the VPN option isn't what you're looking for.
How to Create a Vudu Account Outside the US
With a VPN subscription, you can now create your Vudu account. It's totally free – you can decide which movies or TV shows you want to rent/buy later:
Use your VPN to connect to an American server.
On the top right of Vudu's main page, hover over "Sign In" and click on Create an Account.
Enter the necessary details and hit Sign Up.
You now have a Vudu account.
Stream Vudu on Any Device Outside the US
With a VPN subscription and a Vudu account, you're now ready to get the channel on your device. Don't know how? That's ok! Follow the steps below:
Android
To get the Vudu app on your Android mobile, tablet, or TV (including Nvidia Shield), the following steps should be taken:
Download your VPN client on your Android device and connect to a US server.
Clear your Google Play Store's Cache and Data in order to change its region to the US.
Download the Vudu application.
Sign in with your account and start streaming.
iOS
Those who operate iPhone or iPad devices don't have much to do. To get Vudu, follow the steps below:
Get the VPN app on your iOS device and connect to an American server.
Switch your Apple Store region to the US and download the Vudu app.
Launch Vudu and sign in with your account.
Click on Free to start watching movies/series, or rent/buy your desired title anywhere.
PC/Mac
On your desktop devices, things tend to get a lot easier when it comes to accessing Vudu. Here's what you need to do:
Download and install the VPN app on your PC or Mac.
Sign in with your VPN account and connect to a US server.
Open your preferred browser and head over to https://www.vudu.com/
On the top right of your corner, click on Sign in.
Enter your user name and password.
You now have access to Vudu anywhere.
Apple TV
The Apple TV box is a great way to stream content. However, it's not natively compatible with VPN clients, so this is what you have to do in order to get Vudu:
Switch your Apple TV store's region to America and get the Vudu app.
Launch Vudu and sign in with your account.
You're all set.
Roku
When it comes to Roku, neither Smart DNS nor VPNs can be configured on the device. However, you can still do this to get Vudu:
Install the VPN or configure Smart DNS on your router.
Turn on your Roku TV and switch the Store's region to the US.
Download and install Vudu.
Sign in and start streaming.
Smart TV
Are you using Samsung Smart TV to stream your shows and movies? Then here's how you can get Vudu:
Change the TV's region to the USA and get the Vudu app.
Launch Vudu and log in with your credentials.
Start picking the titles you wish to stream and enjoy.
Chromecast
On Chromecast, the Vudu application cannot be obtained outside of the US. However, you can still use the "Cast" option to stream it. This is what's needed:
Install the VPN or configure Smart DNS on your router.
Download and install the Vudu app on your iOS or Android device.
Sign in with your Vudu account and select the video you wish to watch.
Hit the cast button and start watching on your TV through Chromecast.
PS/Xbox
If you're using your PlayStation or Xbox as streaming hubs, getting Vudu requires the following steps:
Install the VPN on your router or configure Smart DNS on your gaming console.
Now, change the region of your console's store to the United States:
Download and install the Vudu app.
Launch the channel, sign in, and enjoy.
Access Vudu Anywhere – More Questions Answered
Based on most of our users' inquiries, we've added this section in order to shed more light on what Vudu is about. Take a minute to go through these FAQs:
The service has a free section, where you can watch select movies and TV shows without having to rent/buy any of them.
Why Do I Keep Seeing Ads?
That's mainly because you're watching a Free movie or TV show. That Vudu section is ad-supported.
Do I Need an Account to Access Vudu?
Whether you wish to watch free content or rent/buy your titles, you have to create a Vudu account. Without that, you can't access anything.
Do My Vudu Purchases Expire?
If you're renting your movies/shows, you typically have 30 days to start watching them. Once you play your rented video, you have between 24-48 hours (depending on the title) before it expires.
If you've bought your content, you'll be able to stream it as long as you have access to the Vudu service.
What Devices Can I Watch Vudu On?
Vudu is available on all of the devices and services below:
Xbox
Playstation
iOS
Roku
Google Chromecast
Smart TVs
Android
Nvidia Shield
Apple TV
Vudu Outside USA – Unblock and Watch Anywhere
We've provided you with user-friendly methods to bypass any regional restrictions and access Vudu wherever you may be.
Don't forget to leave us a comment below to share your thoughts in case you've stumbled upon any issue with the task at hand.