How to Watch American Crunchyroll outside US – Best VPNs
|
Crunchyroll is an American-based anime and manga site which offers more than 900 anime shows and 50 manga titles. From Attack On Titan to Little Witch Academia, it has enough content to satisfy even the biggest Otaku!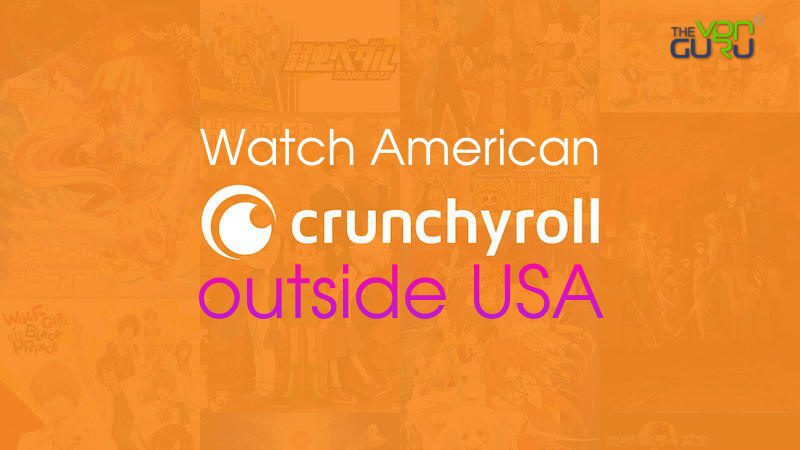 However, if you live outside the USA, you can only get a limited subset of available Crunchyroll shows for the same price. That won't be a problem anymore.
In this guide, we will show you how to unblock and watch American Crunchyroll on all supported devices anywhere.
Watch American Crunchyroll Anywhere
Time needed: 5 minutes
Here's how you can watch the US version of Crunchyroll in any country:
Sign up with a premium VPN service. ExpressVPN reliably unblocks Crunchyroll.
Download and install the ExpressVPN application on your device.
Activate the app and sign in with your credentials.
Connect to an American server.
Launch the Crunchyroll site or launch the app.
Stream American Crunchyroll wherever you are.
Crunchyroll – Geoblocking Applies
Crunchyroll has been around for quite some time now, offering top anime, manga, and dorama. It's arguably the largest streaming service that offers such content.
As of 2021, Crunchyroll has harnessed over 100 million users (4 million paid subscribers).
Now, the channel is available almost everywhere, but due to licensing restrictions, not all countries get the same content.
Not to mention that there are some regions that don't have the service, to begin with. We're referring to the likes of South America, New Zealand, and most parts of Africa, to name a few.
Crunchyroll uses geo-blocking, whether to limit a user's access or fully deny it. Once a streamer launches Crunchyroll, the site's crawlers view their IP addresses to determine if they're from a licensed region and then deny access if they're not.
They'll get the following error message:
"Sorry, this video is not available in your region due to licensing restrictions."
As for those outside the US, but in a supported region, you get a specific library based on your IP address.
So far, the American library is the richest, which is why need to use a VPN, and elevate your entire Crunchyroll streaming experience.
What a VPN Can Do
A VPN stands for Virtual Private Network. If you connect to a VPN, all your traffic will get tunneled to a country of your choosing, and it will all be encrypted.
The main problem is that VPN is not supported on most TV boxes and Smart TVs. So unless you have a VPN-enabled router, you are better off jumping to Smart DNS proxies below. Some of the VPN features are :
All traffic is encrypted, no spying or eavesdropping on you.
Depending on your VPN provider you might get easy-to-use apps for iPad, iPhone, iPod, Android, Mac, and Windows.
If you want to use a VPN with your Apple TV or Roku and any other device that does not support VPN you need to set up a VPN on your router. That by itself is not very difficult but your router has to support VPN to start with.
Very resilient to ISP limitations.
You will unlock all other American content
Even the best VPN providers have a 10% speed penalty.
In general, a VPN opens up a whole new internet experience for those who want to surf the web safely and anonymously.
Best VPNs for Crunchyroll
When it comes to streaming, a VPN's connection speed should be taken into consideration. That's why you have to always avoid free providers as they don't optimize their service well enough for such tasks.
Not to mention that most, if not all of them cannot even unblock the channel. So, if you want to stream Crunchyroll anywhere, best opt for a premium VPN provider.
We've personally performed thorough testings on dozens of VPN providers along the way, and ExpressVPN managed to pass every single one of them.
The service offers great support, speed, easy-to-use apps, and over-the-top security. It will take you probably 5 minutes between the sign up and watching American Crunchyroll.
While we recommend ExpressVPN, we have to note that other top services can also get the job done. Check them out in the table below.
Crunchyroll VPN Not Working?
Changing your virtual location using a VPN is easy, but that doesn't mean that you can access Crunchyroll using any VPN. A couple of years ago, streaming services declared war on VPNs.
Crunchyroll is no different as it blocks users whose traffic is deemed to be coming from a Virtual Private Network. It does that to comply with the strict licensing contracts it has agreed on with content producers and copyright holders.
Non-credible or free VPNs don't have much to offer, especially when it comes to the variety of IP addresses. The channel collects a list of IP addresses connected with VPN services, blacklists them, and then blocks them on the network.
In Crunchyroll's case, the following error appears if the VPN is blocked. We got the same results while testing various free VPNs with popular Anime streaming services.
"Dang! We Couldn't Connect to Crunchyroll."
To avoid this, you must make use of any of the VPNs recommended in the table above. That way, you're guaranteed instant access to Crunchyroll.
Another Way to Unblock Crunchyroll – Use Smart DNS Proxy
Smart DNS Proxies are a different beast altogether. Only partial traffic is re-routed, that traffic that determines which country you are from is sent to the USA.
This way you don't get a speed hit. But your traffic is not encrypted. On the bright side, all your other traffic goes normally through the Internet and ALL devices are supported. Here is a bit more info :
You can unblock channels and access your local ones simultaneously.
All you have to do is change the DNS address on your devices. A one-minute job even for novices.
No speed penalty.
Smart DNS, however, is not resilient against ISP limitations. So if you are unlucky enough to be subscribed to one of those ISPs that still apply DNS Hijacking and/or Transparent Proxies you are out of luck and have to use VPN.
Setup is really easy. See the Video and Picture guides for setup here
All of the providers in the table above offer a Smart DNS service. However, Unlocator is the only one that has a free 7-day trial, 200+ supported channels, and the best documentation and support in the Smart DNS Proxy market.
How to Get the Crunchroll App on Any Device while Abroad
Browser
Crunchyroll's streaming on Windows and Mac cannot be any easier. A few steps should be taken and you'll be streaming in no time:
Subscribe to a VPN service.
Download and install their VPN application.
Sign in and connect to a US server.
Head over to Crunchyroll's website.
Sign in with your account (If you have one), and start streaming.
Mobile
The best thing about Crunchyroll is that its app is available almost anywhere around the world. This makes the following steps on Android, iPhone, or iPad easier:
Subscribe to a VPN service.
Download the Crunchyroll and the VPN app from your respective App Store.
Sign in with your VPN account and connect to a US server.
Launch Crunchyroll and the American version will show.
Start streaming immediately.
Please note that if Crunchyroll is not available in your country, you should either change your Apple ID's country to the US or switch your Google Play's region to America as well.
PS4/PS5
PlayStation's method is a bit more complicated than the aforementioned ones. Yeah, but that doesn't mean it's not applicable:
Subscribe to a VPN/Smart DNS service.
Download and install the Crunchyroll app.
Install the VPN on your router and connect to a US server. Alternatively, configure Smart DNS on your PlayStation.
Activate Crunchyroll and start watching.
Xbox
Similar to PlayStation, the following steps are required on Xbox One or Xbox Series X:
Get a VPN or Smart DNS subscription.

Download and install the Crunchyroll app.

If it's not available, change your Xbox One's region to that of the US.
Set up the VPN on your router and connect to a US server.
If that's not what you want, you can configure Smart DNS on Xbox One by doing this:

Open the Settings app on your Xbox One.
Go to the Network tab.
Click on Network Settings.
Select Advanced settings.
Choose DNS Settings.
Tap Manual.
Enter the DNS credentials offers by your provider.
Reset the device.

Activate Crunchyroll and you're set.
Chromecast
Unlike the other devices above, Chromecast neither has VPN clients, nor does it allow DNS configuration. To access Crunchyroll on it, the following is required:
Get a VPN/Smart DNS subscription.
Download the Crunchyroll app from Google Play Store. If you can't find it, change the Store's region to the US.
Install the VPN on your router and connect to an American server.
If you don't want to use VPN, configure Smart DNS on your router:
Launch Crunchyroll and start binge-watching.
Apple TV
FireStick
Here's how you can get Crunchyroll on FireStick:
Get a VPN subscription. Make sure it has an app on Fire Stick.
Download and install the VPN app on the device. Also, get Crunchyroll if available. If not, you must create a US account to download it.
Now, open the VPN's server list and connect to an American server.
Start streaming US Crunchyroll wherever you are.
Roku
Similar to Chromecast, Roku doesn't have native VPN clients, nor does it support DNS changing. Go through the steps below to watch Crunchyroll on Roku:
Subscribe to a VPN/Smart DNS service.
Download the Crunchyroll app on your Roku. If it's not available, you must create a US Roku account to get it.
Once you get it, configure either VPN (US server) or Smart DNS on your router.
Launch Crunchyroll and start binging.
US Crunchyroll – The FAQ Section
While most of your questions were answered in the guide above, there are a couple more that still haunt most Crunchyroll streamers out there. Don't worry, we're here to answer those as well.
Is Using a VPN with Crunchyroll Illegal?
No, it's not. However, the channel itself does not tolerate such actions as it violates its Terms of Service. The section on such practices is a bit vague, but it can definitely allow Crunchyroll to suspend your account.
Does any VPN Work with Crunchyroll?
That's a solid NO. Not all VPNs can unblock Crunchyroll, especially those that come free of charge. If you try to access the channel with one of them, Crunchyroll will present you with the following: "Dang! We Couldn't Connect to Crunchyroll."
What Devices Can I Watch Crunchyroll on?
You can stream Crunchyroll on Windows, Mac, iOS, Android, PlayStation, Wii U, Xbox One, Chromecast, Apple TV, Roku, and Amazon Fire Stick.
What Are the Best Shows to Watch on Crunchyroll?
The channel has hundreds of shows to binge-watch. However, there are some top titles you should check out first such as Demon Slayer: Kimetsu No Yaiba, Attack on Titan, One-Punch Man, Gintama, Room Camp, Erased, and Parasyte: The Maxim.
Why is Crunchyroll Blocked in Some Countries?
There are many reasons why a channel would be blocked/banned in certain regions, and some of which are not caused by the streaming platform itself. Some countries lack access to the service because:
The region already has its own dedicated streaming services.
Crunchyroll doesn't have government licensing to exist legally in the country.
The channel lacks a substantial streaming base (audience).
Crunchyroll doesn't get a lot of revenues from the specific region.
Watch American Crunchyroll Outside the US – Enjoy
Crunchyroll is an Anime streaming gem that should be accessed by each and every fan out there. You now have everything you need to watch the best anime from US Crunchyroll online. If you have any issues, questions, or input please use the comment box below.