How to Watch US Open 2020 Tennis Championship Free Live Stream
|
The US Open Tennis Championship is one of the most popular and prestigious Grand Slams in the world. The upcoming tournament is set to begin on August 31st, 2020 at USTA Billie Jean King National Tennis Center, in New York, USA, and end on September 5th, 2020. Now, due to the COVID-19 pandemic, the tournament isn't as it was before with a few names missing and an empty stadium with no spectators. However, many streaming channels will broadcast the event live online, which is a good sign. The bad news is that most, if not all of them are geo-blocked outside their respective countries. Well, that's why we're here today, to help you out. Here's how you can watch the 2020 US Open live anywhere.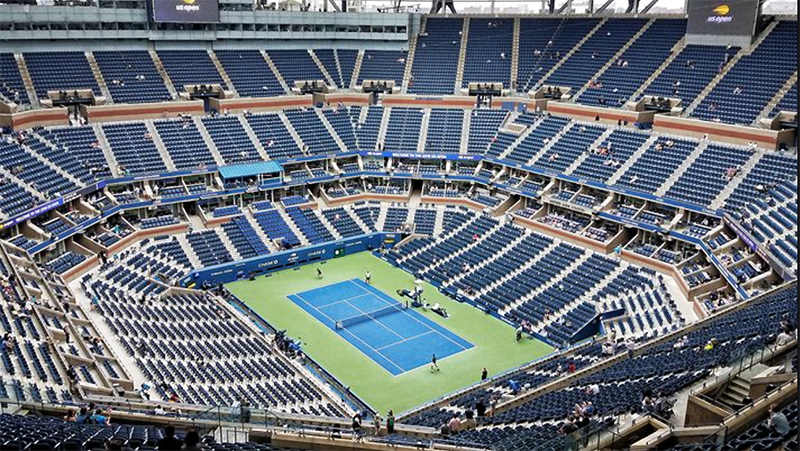 US Open 2020 Tennis Championship – Streaming Channels
As mentioned, the US Open has gained a lot of popularity over the years, marking it as one of the most important and watched tournaments in tennis history.
In fact, back in 2019, an estimated 1.28 million viewers tuned in to the final in the US on ESPN. That's one of the highest records for the channel, ever since acquiring the rights to the US Open back in 2015.
Now, although the US Open is widely viewed in the United States, the tournament is also showcased around the world by international broadcast media partners. Here's where you can watch the 2020 US open in each country:
We have to note that despite having so many broadcasters airing the competition, there are still limitations. These channels cannot operate outside their respective countries due to geo-restrictions.
Also known as geo-blocking, this mechanism is used by services and websites to restrict user access based on his/her location. They do so by examining the user's IP address and block them if located outside the area of coverage.
While this might sound daunting, it can be easily circumvented. It's why we came up with this guide in the first place. So, with that said, let's head over to the "How you can stream US Open 2020" part below.
US Open 2020 – Live International Coverage
Geo-restrictions can be frustrating, but they can be avoided with ease. All you need is a simple location changing tool and you're good to go. No, we're not talking about faking your location using a GPS application, that won't get the job done.
We're referring to Virtual Private Networks, which can easily cloak your location, change your IP address, and allow you access to any streaming service in the world. That, of course, provided you connect to the right server.
A VPN is a cybersecurity tool that encrypts users' data, shields it from any hacking attempt, and prevents any monitoring attempt. Once you establish a connection, the VPN hides your IP address and replaces it with a temporary one based on the server's location.
As a result, you'll be able to watch/visit any service that only operates in that region. For example, if ESPN is your choice, you can connect to an American server.
A few seconds later, the VPN will assign you a US IP address, which allows you to watch ESPN and any other US-based streaming service no matter where you physically reside.
It's pretty simple and does not require any technical knowledge. All you need is a VPN, and you'll be streaming the US Open in no time.
The Steps:
By looking at the list above, your best bet at streaming the US Open 2020 Tennis Championship in HD is SBS. Not that the other channels aren't good enough, but SBS is probably the only one that offers live streaming for free, while the others require a subscription or a TV cable membership.
So, we'll be showing you what you need to do with SBS as an example. Remember, you can use the same steps for any other channel by connecting to a server in its respective region. Here we go:
Find a VPN provider that has servers in Australia. ExpressVPN is a great example.
After installing the VPN app on your PC, Mac, iOS, or Android, look for an Australian VPN server.
Connect to an Australian server to get an Australian IP address.
With that IP address, you get to access SBS as if you are an Australian local.
If you manage to access the SBS website or app, you'll know that the connection was successful.
Watch the US Open 2020 live online.
There you have it. Once you complete the steps above, you can join in on the tennis action wherever you may be.
VPN Recommendations?
There's no chance there's a VPN out there that is more reliable than ExpressVPN. We're talking about a super-fast VPN service provider that can make your streaming dreams come true.
Besides being able to access content from all over the world, you also get to view this content at high speeds and with ultimate security. ExpressVPN seems to offer more than what most VPNs do.
Unlike many providers, ExpressVPN offers its users a Speed Test. This is so that they know which high-speed VPN servers are functioning. While a VPN does get you past geo-blocking, it does not relieve you from subscriptions.
But since SBS is a free channel, you have nothing to worry about. Not convinced? Check out other providers displayed in the table below:
Smart DNS Alternative – US Open 2020 On Any Device
Smart DNS is just the device you should turn to if you're after fast unblocking methods. So, it's not as secure as a VPN, but it's much faster. With a Smart DNS, you cannot expect any data protection.
This device does not encrypt data and leaves your IP address for everyone to see. On the bright side, you get to access the content at faster speed rates. If security, however, is a concern to you, you should never turn to a Smart DNS proxy.
Both a VPN and Smart DNS can help you get the content you want unblocked anywhere, but each in a different manner. One promises security when offering its services, while the other guarantees speed. If you feel like you don't know much about a Smart DNS, this list can help you out.
Smart DNS can be used on iOS, Mac, Apple TV, Roku, Chromecast, PS3/PS4, Amazon Fire TV, and Xbox.
In case your ISP uses transparent proxies or DNS hijacking, the Smart DNS might not function.
Smart DNS doesn't guarantee your online anonymity because your IP address is not changed.
No encryptions are involved with a Smart DNS.
All the VPNs on our list offer Smart DNS for free as part of their subscription. However, the only provider with a 7-day free trial is Unlocator. If you sign up for Unlocator's 7-day free trial, you get to benefit from all the services it has to offer. One of the benefits is the ability to unblock more than 220 channels from all over the world.
Channels like ESPN, BeIN Sports, or SBS can be yours no matter where you are connecting to the internet from. Just enter your email address to create a Smart DNS account. Keep in mind that no credit card is required.
The 2020 US Open – Inside the Tournament
The 2020 US Open is scheduled to start on the 31st of August 2020 at the National Tennis Center. The stadium is the biggest in the United States, which doesn't really make a difference since no spectators are allowed.
However, rumor has it that the tournament might be moved to Indian Wells Tennis Garden in California. At least that's what the Spanish publication MARCA stated due to the fact that the National Tennis Center has been converted into a hospital amid the Covid-19 pandemic.
We'll see what the US Open has in stores for us by then. As for now, check out the full schedule below:
August 31st
Men's / Women's 1st Round
September 1st
Men's / Women's 1st Round
September 2nd
Men's / Women's 2nd Round
September 3rd
Men's / Women's 2nd Round
September 4th
Men's / Women's 3rd Round
September 5th
Men's / Women's 3rd Round
September 6th
Men's / Women's Round of 16
September 7th
Men's / Women's Round of 16
September 8th
Men's / Women's Quarterfinals
September 9th
Men's / Women's Quarterfinals
September 10th
September 11th
Mixed Doubles Final / Men's Semifinals
September 12th
Men's Doubles Final / Women's Final
September 13th
Women's Doubles Final / Men's Fina
US Open Live Anywhere – Final Words
The US Open is nothing like the previous ones. There are no fans, and a lot of names are missing. But don't worry, fan-favorites Novak Djokovic and Dominic Thiem are competing in the competition, so the action is still there.
Now tell us, how do you plan on watching the US Open 2020? Is it going to be a Smart DNS proxy or a VPN? Don't forget to let us know in the comments.
Save